Managed growth is key for Oman Air
Oman Air has put expansion plans on hold, preferring instead to consolidate its business. Senior vice-president network and alliances Manuel Esu explains why.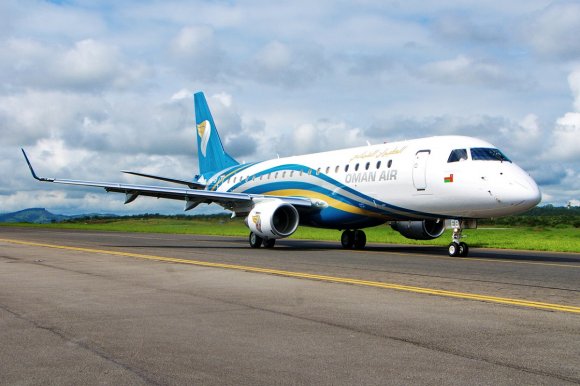 Anyone looking for a burst of route development growth from Oman Air is likely to be disappointed, at least in the short term. The airline has launched two services this year, a seasonal one serving Alexandria from Muscat launched in May, quickly followed in June by a year-round daily service to Athens.
The launches come following the introduction of a spate of new destinations – Istanbul, Casablanca and Moscow – in 2018, while Maldives operations resumed in October. Oman Air senior vice-president network and alliances Manuel Esu says there were good reasons for the latest two routes.
He explains: "We were already going into Cairo when we decided to add a seasonal route to Alexandria in time for the summer. There are a lot of movements in the summer due to the Egyptian diaspora going back home for the summer so we needed more capacity in then.
"On the other hand, Athens is one of the few European capitals within range of the narrow-body. The best potential demand is from Oman but there is good demand for Oman and for connecting flights.
"There's a huge community of Greeks in Australia and, for the last two years, we have seen a lot of traffic going to and from the country via Oman."
Consolidation is key
Esu is confident the new daily service will prove to be even more popular, especially as it is further bolstered by a codeshare arrangement with Malaysia Airlines which offers services to five Australian cities: Perth, Sydney, Brisbane, Melbourne and Adelaide. But he adds, barring any golden opportunities, Oman Air is now fully focused on consolidating current operations.
Esu says: "For the time being we are not planning any further expansion, the focus now will be to consolidate the current network especially following the fleet issue (caused by the grounding of the Boeing 737 MAX). All the planes have been delayed and we didn't want to find ourselves in a situation where we added too much capacity. This is our priority at the moment.
"However, we will always look at market opportunities. If some slots or traffic rights become available in markets that have good potential we will definitely look at them."
One such slot that recently became available was in the morning at London Heathrow Airport, which Oman Air bought in February 2016 for a still unbroken record of $75 million. The acquisition complemented Oman's evening slot at the facility and while the price might have raised a few eyebrows, Esu argues the deal has paid off.
He says: "What we were missing with the evening slot was the connectivity. The reasoning behind the second flight arriving in the morning is to catch all the connectivity with the northern Atlantic.
"At the beginning it obviously took a bit of time to develop and fill this additional flight, as Oman is still a niche market. Then we started to develop some agreements, in particular with Air Canada."
The interline partnership, which started in November 2016, has proved popular, not only bringing more Canadians to Oman via London but also in moving Asians in the other direction from India, Pakistan and Sri Lanka. Esu says with the airline serving 17 destinations on the Indian subcontinent, Oman Air is well placed to serve the population, with 70 percent of passengers flying into Heathrow first thing then taking a connecting flight, with load factors of more than 80 percent.
The Air Canada partnership is one of 50 commercial agreements Oman Air currently has with other airlines and certainly points to how the airline can grow its passenger and revenue figures without introducing more routes or growing frequencies.
Esu says: "We don't have an appetite to engage with any alliance for the time being and on the other hand we don't have plans to operate extra long-haul flights, which would be to the US, South America or even Australia.
"We need to corner those markets through partnership and we are actively looking for a codeshare partner. We have had a very successful experience with Air Canada out of London and there are destinations in Europe where we have some morning arrivals where we have the opportunity to connect and have a codeshare with carriers to the US."
He adds he expects to strike a codeshare deal with an American or European carrier by the end of the year and argues that again, Oman's Indian connections and market give it a strong bargaining chip.
"We have at the moment three partners we are talking to, and we see this as a good opportunity, especially because of our extensive coverage of the Indian subcontinent," Esu says.
"Most of the routes are operated double or triple daily, so we are one of the carriers in the Gulf today with the best connections and this represents an opportunity, especially for our codeshare partners. They can connect to the Indian market but don't have to fly directly."
In looking for the perfect airline partner, Esu's key requirement is fairly obvious – that its network coverage will complement Oman Air's as opposed to compete with it. But equally importantly for an airline that prides itself on the quality of its service, he adds: "The customer experience has to be comparable to that offered by Oman Air, that is why we don't have any partnerships with low-cost airlines."
Oman Air, Esu admits the airline faces a number of issues, particularly in the wake of the grounding of the Boeing 737 MAX. Oman currently has five, while as many as four more are sitting on the tarmac in Seattle awaiting delivery following an order. The airline managed the grounding by putting back into operation four Embraer 175s that had been retired in January, meaning it has only had to wet-lease a single additional A330-300 from SriLankan Airlines for four months over the summer as costs soared due to market demand.
Esu says: "It didn't make sense for us to go back to the market and overpay for a 737NG to replace the MAXs. The decision was taken to wet-lease one wide-body rather than one or more narrow-bodies.
"Obviously, the situation's been quite shocking and has had a significant impact, as it happened just before the start of the summer season when we were expecting these aircraft to be operating."
He also remains concerned about the amount of competition in the region with the Middle East big three of Emirates, Etihad and Qatar Airways all growing capacities. But overall Esu remains positive. Muscat International Airport has undergone a considerable overhaul in the last few years with a new terminal opened in 2018, meaning the experience the airline offers starts at check-in.
Although he admits Oman is a niche market he agrees it is getting better known and attracting more travellers, a process that can only be aided by the airline's recent growth and current consolidation. Which might mean that the airline's next growth spurt could be much sooner than expected.