Bulletin board: aviation industry news round-up
This week: AirAsia begins routes to Belitung; Volotea to station two A319s in Naples; Loganair to start Cornwall Newquay flights; SAS expands network with 14 new routes and more.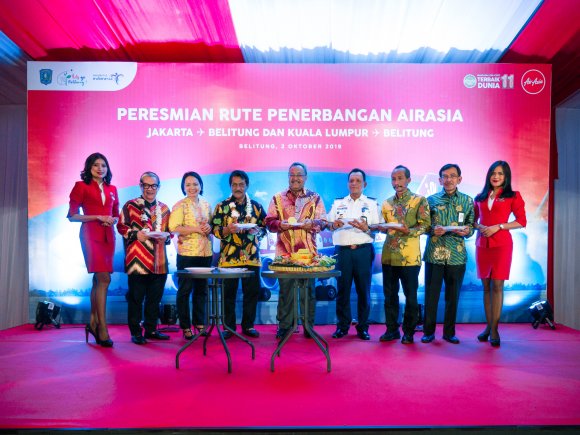 A round-up of news from the aviation industry this week.
AirAsia begins routes to Belitung
AirAsia has started flying from Kuala Lumpur and Jakarta to the island of Belitung, Indonesia. The Kuala Lumpur route will operate four times per week, while Jakarta - Belitung is daily.
Veranita Yosephine, AirAsia Indonesia's deputy CEO, said the services support the Indonesian Government's sustainable tourism agenda to develop 'ten new Balis'.
AirAsia Indonesia has this year grown its fleet to include three new Airbus A320 aircraft which are based in Jakarta and Lombok. It will take delivery of two additional aircraft before the end of the year.
Volotea to station two A319s in Naples
Low-cost Spanish carrier Volotea has chosen Naples Campania airport as its sixth Italian base.
The airline will base two Airbus A319 aircraft at the airport from April 2020. It already operates 22 routes from Naples and said additional services would be announced at a ceremony on 15 October.
Roberto Barbieri, chief executive of airport operator GESAC, said: "The presence of Naples-based aircraft will allow flights to be operated on domestic routes in more convenient time slots, particularly for business users."
Volotea has been operating from Naples since 2013 and recently hit the 2.5 million passenger milestone at the airport.
From June to September 2019, it carried 664,000 passengers locally, an increase of 24 percent compared to the same period last year.
Loganair to start Cornwall Newquay flights
Loganair will start four routes from Cornwall Airport Newquay in summer 2020. The UK carrier will begin services to Aberdeen (1 April), Newcastle (1 April), Norwich (3 April) and Glasgow (22 May).
Glasgow and Norwich will be summer-seasonal at up to three- and four-weekly respectively. Aberdeen and Newcastle will be year-round, both at four-weekly and up to daily in peak summer.
Aberdeen will mainly operate via Newcastle, but it will be non-stop on Saturdays – when it becomes the longest non-stop service in the UK mainland.
"With more and more people holidaying in the UK, avoiding expensive Euro exchange rates or enjoying a staycation with friends and family, we're confident that the routes will do well," said Jonathan Hinkles, Loganair's managing director.
MAX grounding hits flydubai
Low-cost carrier flydubai has warned that its operating fleet will reduce in size to 2014 levels as the ongoing grounding of the Boeing 737 MAX continues to hamper its growth.
The airline said available seat kilometers (ASKs) fell 14.9 percent in the first half of 2019, compared with the same period a year earlier, while passenger numbers were down by 5 million or 7.5 percent. Flydubai has 11 737 MAX 8s and three 737 MAX 9s.
The carrier posted a loss of AED 196.7 million ($53.6m) in the six months to the end of June, a 38 percent reduction on the comparable period in 2018.
Chief executive Ghaith Al Ghaith said: "In our tenth anniversary year, we had expected to grow our fleet and continue with our plans to expand our network.
"Without any deliveries of new aircraft and no visibility of the timelines, we will see our operating fleet reduce in size to what it was in 2014."
London Luton's new Russian connections launch
Wizz Air UK has launched two routes from its London Luton base to the Russian cities of Moscow and St Petersburg.
Jonathan Pollard, chief commercial officer of London Luton Airport, said: "We're really excited to be launching these two fabulous destinations, making Russia the 44th country to be connected with London Luton Airport.
"I'm very confident that they will prove a big success with our passengers and we remain grateful to Wizz Air for continuing to widen their choice of destinations available here at the airport."
Wizz now offers 63 routes from its London Luton base, where it is the largest operating airline with more than 40 percent market share.
In addition to the new London Luton flights, Wizz is to begin service from London Southend to Iasi in Romania. Flights will operate four times per week from 1 August 2020.
SAS expands network with 14 new routes
SAS is adding 14 direct routes and five new destinations to its summer 2020 schedule. The new destinations are Bari, Rhodes, Tivat, Zadar and Valencia.
"We're constantly developing our offering in line with what our passengers ask for," SAS EVP commercial Karl Sandlund said.
From Copenhagen, SAS is adding service to Bari, Rhodes, Tivat and Zadar. Denmark's capital will also gain a new link with Haugesund.
Also in Denmark, it is launching new routes to Alicante and Chania from Aarhus, as well as adding frequencies to Malaga and Palma.
From Oslo, SAS is starting a direct route to Valencia and its Kiev route will become a year-round destination. Bergen, the host of Routes Europe 2022, will also get a new link to Barcelona.
In addition, the airline will add frequencies from Stockholm to Beirut and Luxembourg, which will become a year-round destination.
Jet2 to add Montenegro
Jet2.com is to launch flights to Montenegro for the first time in summer 2020. The carrier will operate up to two weekly services to Tivat from London Stansted and Manchester Airport from May to October.
"The introduction of services to Tivat means that we are operating direct flights to Montenegro for the first time," Jet2 chief executive Steve Heapy said.
"With stunning scenery, a wonderful climate, and fantastic resorts such as Budva and Becici on offer, we are expecting this destination to be hugely popular with holidaymakers."