LOT adds new US route following Poland's visa waiver program entry
Less than two months after Poland became the 39th country to be added to the US visa waiver program, LOT Polish Airlines has unveiled plans to further expand its operations to the country.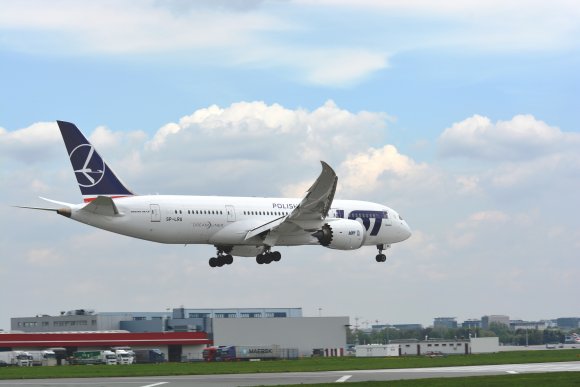 LOT Polish Airlines is adding a new non-stop connection between Poland and the US, with a three-weekly service between Warsaw and Washington Dulles.
The route linking the two capital cities will launch on 2 June 2020 on board Boeing 787 Dreamliner, operating on Tuesdays, Fridays and Sundays. It will become the Polish flag carrier's tenth between Poland and the US.
"A direct flight from Warsaw to Washington D.C. has long been on our shortlist," said Rafał Milczarski, chief executive of LOT Polish Airlines.
"In the course of extensive business analyses, we focused not only on the very fact of connecting the capitals of Poland and the US, but also on the tourist and business potential offered by this connection which has been growing with each year."
According to figures from OAG Schedules Analyser, Washington Dulles is connected to 16 points in Europe, 12 of which are capital cities. However, its only link to Central and Eastern Europe is currently Aeroflot's weekly service to Moscow Sheremetyevo.
Yil Surehan, vice president of airline business development for the Metropolitan Washington Airports Authority, said: "LOT Polish Airlines is the 18th European carrier to join the Dulles International family, continuing the airport's legacy of offering unparalleled connectivity from the National Capital Region to Europe and beyond."
The Warsaw - Washington Dulles route will become LOT Polish Airlines' sixth to the US from Poland's capital, in addition to New York (JFK/EWR), Chicago, Los Angeles and Miami. A seventh US route from Warsaw, to San Francisco, will begin in August 2020.
Milczarski said that long-haul flights to the US are the "backbone" of LOT Polish Airlines' strategy, hinting that additional new routes are on the horizon.
In October, the Star Alliance member unveiled plans to begin service between its Warsaw base and San Francisco International from 5 August 2020. Flights to the Californian city will take about 12 hours and be operated four times a week using Boeing 787-8 aircraft.
The proposed route was announced at the same time the US formally nominated Poland for entry into its visa waiver program, making it easier for Polish citizens to visit America.
Poland was formally admitted to the scheme on 11 November, becoming the first nation to be added to the program since 2014 when Chile joined.
Polish nationals are now eligible to apply for the waiver using the Electronic System for Travel Authorization, often referred to as ESTA, enabling them to visit the US for 90 days without a visa.
"It is a great success of the President of Poland Mr Andrzej Duda, as well as Polish diplomacy, and a milestone in Polish-American relationship," added Milczarski.
"I am delighted that our social campaign 'Let's visit USA without visas [#BezWizDoUSA]' that we initiated in 2018 has also contributed to this historic success. Now Poles can easily travel to the USA for tourist and business purposes without a visa."
Image credit: LOT Polish Airlines