France's Air Corsica mulls Italian market expansion
Air Corsica is evaluating potential ATR 72 service from the Mediterranean island, located south east of the French mainland and west of the Italian Peninsula.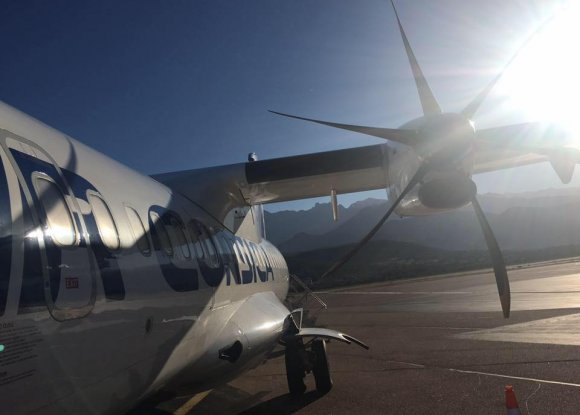 Italy's market offers an "interesting challenge" for Air Corsica as the French carrier looks to further expand its international footprint, according to president Luc Bereni.
Speaking to Routes, he said the airline was evaluating potential service from the Mediterranean island, located south east of the French mainland and west of the Italian Peninsula, to several destinations in Italy using its ATR 72 aircraft.
"Many airlines have tried to operate routes, including Air Corsica, but not one of them has been successful," Bereni said. "That means there is no reliable and efficient air service between Corsica and Italy.
"We don't pretend we have the solution, but opportunities certainly exist. We're working with several airports in Italy and Sardinia, as well as tourism organisations and chambers of commerce, to explore how we can establish a stable service from Corsica."
Air Corsica's fleet comprises one ATR 42-500, six ATR 72-500s, four Airbus A320ceos and two A320neos. The carrier provides service from all four of Corsica's airports: Ajaccio, Bastia, Calvi and Figari.
However, Bereni stressed that selecting the right route between Corsica and Italy will be challenging. "It's difficult because the geography in Corsica is not easy. Although the island is relatively small, its mountainous nature means that we need four airports to serve each community," he said.
"Then you have to take into account the huge geographical diversity of Italy, meaning that no Corsica-Italy route will answer 100% of the need. But whatever route we choose, it has to be sustainable from the very beginning. That means we can't just have a once or twice weekly operation on a single route.
"If we really want to stimulate the market between Corsica and Italy and get passengers to use planes instead of ferries, we must provide true options. This involves several routes and multiple frequencies. It's a big risk and so we need to find partners willing to share that risk."
As previously reported by Routes, Air Corsica is also evaluating expansion to more German-speaking destinations, and routes to points in Germany or Switzerland could open next year.
Bereni, who joined Air Corsica's board in January 2019 and was named president nine months later, said: "German-speaking countries have historically been big markets for Corsica, but many tourists arrive by sea from Italy. This is an old-fashioned approach and so the demand for air services to Corsica is growing.
"Flying obviously reduces the travel time and allows tourists to visit more frequently, often for shorter stays. This therefore presents a big opportunity for us to be part of the changing traveler demands. We have started talks with various German airports, as well as tour operators in Germany and Switzerland. There is potential something could happen in 2021."