Tampa International Airport: Leisure is only part of its business
If you only know about Tampa's enticing leisure passenger market, you're missing half the story. Tampa Bay is one of America's fastest growing metropolitan areas and its airport welcomes over 22 million passengers annually.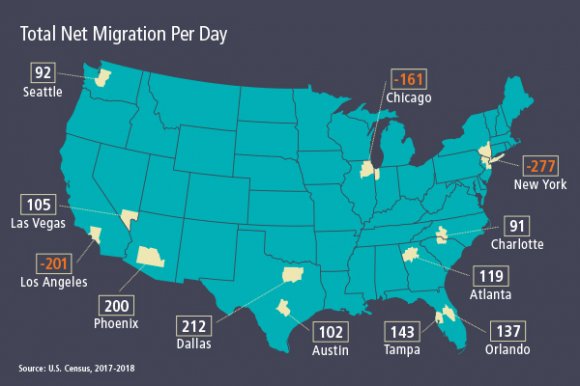 Sponsored by Tampa International Airport
Tampa Bay is one of America's fastest-growing metropolitan areas, with a net inflow of 150 people per day. The Tampa Bay Area is now home to more than three million people and Tampa International Airport welcomes 22 million annual passengers – with room to grow.
TPA is centrally located both 15 minutes from Tampa's business core and just 30 minutes from the world-renowned beaches on Florida's Gulf Coast. And yes, TPA is also only 75 minutes from Walt Disney World, making the easy-to-navigate airport especially attractive to leisure travelers looking for holidays that combine beaches and theme parks.
A Thriving Business Community in a Leisure Destination
But it's TPA's business travel story that sometimes comes as a pleasant surprise to airlines that are filling the front of their aircraft at better-than-projected rates. This is largely due to the region's booming economy. Tampa Bay is home to six of Florida's 17 Fortune 500 Firms, many other huge corporate campuses and 7.5 million people within a two-hour drive, which makes it easy for airlines to fill up their business class cabins.
Tampa International continues to increase its local originating passenger share – which is already the highest among Florida's major airports, at nearly 45 percent. This dynamic creates a profitable and diversified mix of business and leisure travelers.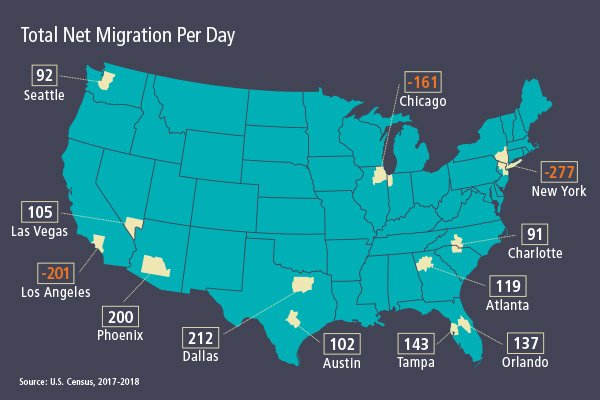 Record-breaking Growth and Planning for the Future
TPA was recently rated as the #1 U.S. mid-size airport in The Wall Street Journal's 2019 rankings and it also had another record-breaking year, serving 22,166,049 passengers – a 5.5 percent increase over the previous year. That's thanks to strong domestic growth, and new international service to London (Norwegian) and Amsterdam (Delta). In all, airlines launched 12 new routes, while also increasing capacity and frequency across their networks.
In FY19, domestic passengers increased 4.8 percent, while international passenger traffic jumped 19.3 percent. Since 2010, TPA's international passenger traffic has increased 253 percent. TPA's current international routes include numerous cities throughout Canada and the Caribbean, London, Zurich, Amsterdam, Frankfurt, Cuba and Panama City.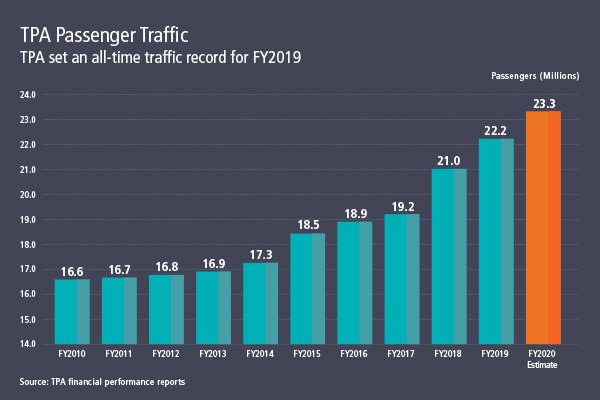 TPA expects to serve 23.3 million passengers over the next 12 months, logging yet another record year. As it continues to grow, it also is expanding facilities to accommodate passenger increases. Phase 2 of the three-phase Master Plan expansion ramps up in 2020, including 16 express curbsides and a 35-acre commercial development around the Rental Car Center. Concurrently, they'll begin working on Phase 3, which includes the construction of a new 16-gate Airside D for international and domestic flights.
Sponsored Content