Mexico's Volaris cuts May capacity by 90% to cope with pandemic
The ULCC has 63 aircraft in long-term storage.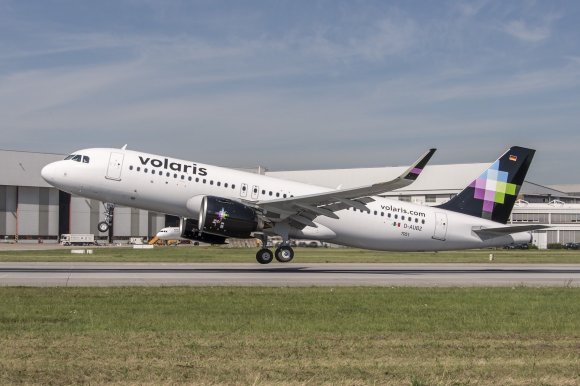 Mexico City-based ULCC Volaris will cut capacity by 90% year-over-year in May as it braces for the COVID-19 pandemic to peak across Latin America in the coming weeks.
Management expects capacity cuts to average 80% in the second quarter ending June 30. This will improve to 50-60% in the third quarter and then rebound further as net bookings return to positive levels by the fourth quarter. The company believes its low-fare model will enable it to rebound faster than competitors when demand returns, allowing it to potentially snap up market share from less nimble rivals.
Volaris currently has 63 aircraft in long-term storage, roughly three-quarters of its entire fleet of 82 leased A320-series narrowbodies. The carrier and its leasing companies have agreed to defer 53% of expected second-quarter lease expenses to the June quarter, and will also work with Airbus to shift aircraft deliveries further to the right. Of the 18 deliveries scheduled over the next 18 months, Cowen & Co. expects the carrier to take just 2-4 aircraft, or those which have already been built.
The company is also saving big on labor costs, with 82% of employees agreeing to up to 90-day leaves of absence at a rate equal to 20% of their salary. The company will still have to pay for benefits, but even then will be looking at a 65% reduction in total labor expenses, according to estimates from Cowen. All salaried staff that remain in active roles have agreed to cuts ranging from 20% at the lower-level to 80% at the C-Suite level.
Volaris president and CEO Enrique Beltranena said he expects some government support on extending credit terms. He confirmed the airline is in talks with the Mexican Central Bank about a possible credit line "mainly to support employment continuity." Still, he expects the aid to fall far short of levels seen in other countries like the US and Canada.
"I want to leave it very clear that I'm not expecting the state to rescue this company. I think it's going to be a minimal support that's going to be much more through credit and credit terms," Beltranena said.
Volaris is Mexico's largest airline by domestic seat share, controlling roughly 31% of the market last year compared to 25% for AeroMexico, 20% for VivaAerobus and 19% for InterJet. Given the financial issues plaguing InterJet, which has already seen dozens of aircraft repossessions by its lessors prior to the most severe stages of the COVID-19 outbreak, Cowen speculates that Volaris may be well positioned to emerge from the crisis with a greater market share due to its more flexible, lower-cost business model.
Photo credit: Airbus