United: Resuming LAX 787 routes marks 'sprout' of good news
After American Airlines drops LAX as an international hub, United boosts long-haul flying at the airport.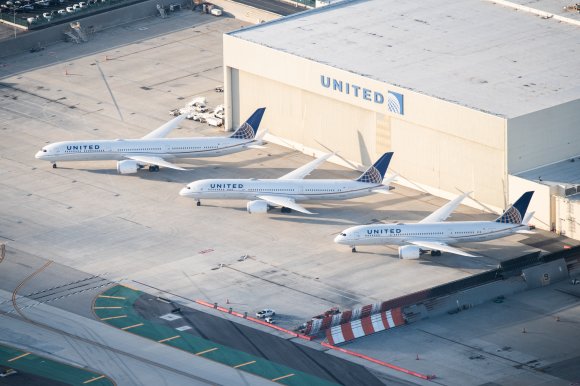 United Airlines has backed out of a plan to close its Boeing 787 pilot base at Los Angeles International Airport (LAX) citing a "changing competitive environment" at the major US West Coast hub airport.
Chicago-based United pulled the plug on its LAX 787 base in early May—a decision that impacted 70 captains and 180 first officers stationed there, choosing instead to concentrate resources at San Francisco International Airport (SFO), from which it now operates the bulk of its transpacific flying. The carrier does not currently operate any other widebody service from the LAX, after halting 767 operations there during the COVID-19 pandemic.
On July 10, United told pilots in a memo that its international planning team had decided to resume 787 service from LAX in September, which it called "a small sprout of good news ... against the broad backdrop of slumping travel demand."
In the near-term, United will operate a slimmed-down long-haul schedule out of LAX, flying only to Sydney (SYD) and Tokyo Haneda (HND) on restarted routes beginning in September. Because of the low initial flying level, the move will generate limited staffing activity: 25 captains and 50 first officers will be retained at the LAX 787 base, the company said.
The apparent about-face comes after American Airlines eliminated most remaining long-haul service from LAX on July 1, canceling transpacific routes to Beijing (PEK), Hong Kong (HKG) and Shanghai (PVG) as well as Latin American routes to Buenos Aires (EZE) and Sao Paulo (GRU). The changes leave Dallas/Fort Worth-based American with no international long-haul flights from LAX until its winter 2021 schedule, when service to Auckland (AKL) resumes. Additional routes to London Heathrow (LHR) and SYD will return in its summer 2021 schedule.
As the US airline with the largest exposure to long-haul markets, particularly across the Pacific, United reacted to the near-collapse in international travel demand caused by the COVID-19 pandemic by cutting a greater proportion of its overall schedule through the summer than any of its peers. The carrier now plans to operate 35% of its overall schedule in August, down from 40% in its recent schedule published July 1, citing deterioration in bookings due to climbing coronavirus cases in many states.
The company has notified 36,000 employees about potential furloughs come October 1, although it clarified that a lesser amount may ultimately be let go, particularly if more workers accept voluntary separation packages in the meantime. The furlough notification last week was the largest such action at any US carrier to date, reflecting the gravity of the slowdown in international and corporate travel on United's business operations.
As carriers slow the pace of capacity additions due to multiplying COVID-19 cases and interstate travel bans, analysts are revising down their expectations for the industry's performance through year end. Credit Suisse analyst Jose Caiado said in a client note on July 13 that he lowered his forecasts for US industry revenue in the third and fourth quarters by 10% and 28%, respectively, predicting that "network carriers are unlikely to achieve their goals of cash-flow break-even by year-end."
Photo credit: United Airlines