PRESS RELEASE: Routes Americas officially handed over to San Antonio
As Routes Americas 2021 draws to a close, hosting responsibilities for next year's event are officially handed over to 2022 hosts, San Antonio International Airport.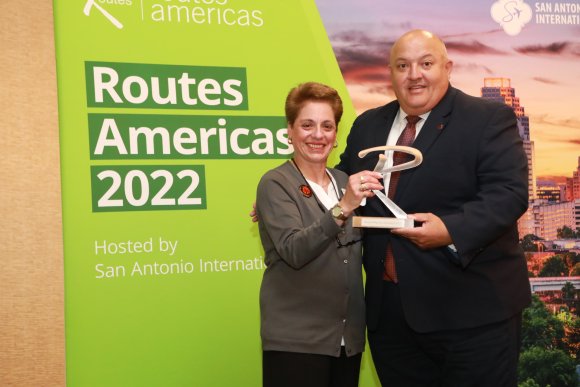 As the only dedicated air service development event that unites airline decision makers across the entire region, hosting Routes Americas 2022 will provide the city with a unique platform to increase connectivity to the destination and showcase the $1 billion capital improvements it has made to enhance its reputation as a premier meeting destination.
This year's event saw senior decision makers from more than 65 regional and international airlines participate in over 2,500 in-person and virtual meetings with their industry peers. The conference programme saw over 20 high-level industry speakers sharing their insight on important topics such as airport and airline recovery strategy, stimulating demand in tourism and innovation across the industry, and providing their exclusive projections for the future of the market in the new post-pandemic world.
Steven Small, Director of Events at Routes, said: "We are excited to be taking the air service development community to San Antonio for the 15th annual Routes Americas event. The city is a top tourist destination, with San Antonio International Airport being a major contributor to the economic success of San Antonio and the entire South Texas region.
It's a very exciting time for our hosts and we are confident that hosting Routes Americas 2022 will provide unmissable opportunities to help them to achieve their objectives."
Jesus H. Saenz, Jr., IAP, Director of Airports at San Antonio Airport System, said: "Routes Americas 2022 will be an opportunity to reconnect face-to-face with our industry partners, decision makers and anyone vital to the recovery of our industry. San Antonio will be the backdrop of air service development. This will also be a wonderful time to showcase the beautiful city of San Antonio and our airport. San Antonio is known for the fusion of its rich cultural history, art, music and cuisine."
Held in a different location each year, Routes Americas acts as the uniting route development forum for the continent, bringing together airlines, airports, tourism authorities and other aviation stakeholders to discuss new and existing air services.