Lower costs key to Spirit's Miami debut
Spirit's network planning VP John Kirby told Routes Americas 2021 that Miami International's decision to lower costs, coupled with soaring leisure demand, prompted the ULCC's big expansion in South Florida.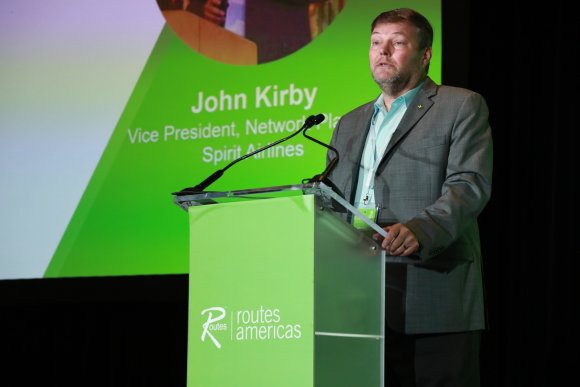 US carrier Spirit Airlines' planned entry to the Miami market would have come much sooner had the ULCC been able to make the numbers stack up, according to the ULCC's network planning VP John Kirby.
"It was a decision that we've been looking at for a long, long time but we could never make the math work," he said. "The costs were more than twice what Fort Lauderdale costs—as a ULCC, it's difficult to make that up in the fare."
Speaking at Routes Americas 2021 on June 24 in Orlando, Kirby said Miami International's (MIA) decision to switch its gates to a preferential-use model, rather than the previous common-use model, had been a deciding factor in the proposed launch this fall. Under the new system, the cost per passenger is lower for airlines making efficient use of the gates.
"With the change to the preferential model, Miami's costs have gone down precipitously," Kirby said. "It allows us to leverage our high utilization model, and probably have the lowest costs in Miami of any carrier once we get started."
Beginning in October, the carrier will launch the first of 18 domestic and 12 international routes from MIA, giving it a presence at all three of South Florida's major airports for the first time.
Many of the routes from MIA will be daily, connecting the city with the likes of Atlanta (ATL), Detroit (DTW) and Newark (EWR) in the US, alongside international flights to Bogota (BOG), Guatemala City (GUA), and Port-au-Prince (PAP).
American Airlines will compete on 28 of the 30 routes, while Frontier Airlines serves 19. Spirit also serves all 30 destinations from FLL.
Despite the entrance to Miami, Kirby affirmed that Spirit would maintain its dominant presence at Fort Lauderdale (FLL), located some 27 mi. (43 km) away from MIA.
"We're bigger than we've ever been in Fort Lauderdale," he said. "We'll be over 100 flights per day from next month and we're going to maintain a very large position."
Given the soaring demand for air travel to Florida, Kirby added that the airline's presence at Orlando (MCO) would also continue to grow. "We're 25% larger at Orlando in terms of departures and 30% larger in terms of seats over the last two years," he said. "Orlando is going to continue to be a focal point of our growth."
Kirby was speaking on the same day Spirit began serving Milwaukee Mitchell International (MKE) in Wisconsin for the first time. Three routes are initially on offer, with flights from MCO, Las Vegas (LAS) and Los Angeles (LAX).
Additionally, Spirit plans to add four more routes from MKE starting on Nov. 17. Daily service will begin to FLL, Fort Myers (RSW), Phoenix (PHX) and Tampa (TPA). A fifth new route to Cancun (CUN)) opens on Dec. 23, operating 3X-weekly.
"When you think about where we were a year ago, it's hard to imagine that we would be introducing a new airline here at MKE, let alone one that's expanding so quickly," Milwaukee County Airport director Brian Dranzik said.
"Spirit Airlines is now up to eight nonstop destinations from MKE, which provides Milwaukee travelers even more connections to where they want to go."
Photo credit: Craig Huey