Looking ahead to 2022
At the start of this year, we knew that 2021 would be tough for the industry. However, we also hoped that it would be the year when the recovery would start in earnest.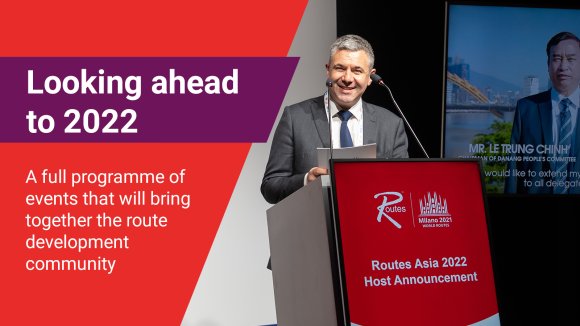 We understood how important it was to continue to bring together the route development community with millions of jobs and national economies dependent on a strong restart of the sector. It is, therefore, with great pride that we look back at this year having successfully delivered three hybrid and two virtual events.

This year's World Routes in Milan was arguably the most important event in the industry's history. The meetings that took place will be critical in re-establishing air services that will drive tourism, trade, investment and market efficiency to the destinations they serve. We welcomed over 1,500 route development decision-makers to the event and there was a palpable energy on-site, highlighting that as a community we are ready to move forward.

With such tangible optimism and a focus on the future at the event, it felt appropriate that we unveil the new Routes brand identity. Over two years in the making, we wanted our new brand identity to reflect our core values as a business and our connection with our wider portfolio of business within Aviation Week Network. That we, as an organisation, are embedded in our industry, trusted by our community, and deliver platforms that drive global air connectivity. We've had an overwhelmingly positive response to our rebrand and we are incredibly excited to continue to roll it out across our full programme of events in 2022.
Looking ahead to next year's events

Our first event in 2022 will be Routes Americas in San Antonio, Texas, on 15-17 February. Recognised as a premier meeting destination, famed for its hospitality and having made over $1 billion capital improvements in recent years, San Antonio will be the perfect location in which to unite decision-makers from across the region.

Routes Europe will explore an agenda that will have a major influence on route development and the meetings at Routes events going forward. Taking place in Bergen, Norway on 18-20 May, the event will highlight the latest development in sustainable travel and "Green" tourism.

Although pandemic-related travel restrictions have inevitably curtailed growth, the outlook for air traffic in the Asia Pacific region remains strong. During World Routes, we were delighted to announce that the next edition of Routes Asia would take place in Da Nang, Vietnam. It will have been over three years since a dedicated route development event took place in the region and we are thrilled that we will be able to reunite decision-makers that can drive the recovery.

For Routes World, we will return to the world's No. 1 trade show destination for the last 26 years. Las Vegas is synonymous with business, hosting over 6.6 million meeting, convention, and incentive delegates in a regular year. We have been working closely with our hosts and have identified that making a minor adjustment to the Routes World event date will provide better hotel availability and the opportunity for a wider group of industry stakeholders to take part in the event. Routes World 2022 will now take place on 16-18 October.

We hope that all our industry partners will be able to join us in-person at our events next year. However, we are aware that some government-imposed travel restrictions may still be in place. With this in mind, we will be incorporating supplementary virtual opportunities within our event programmes.
---
Thank you for your continued support
Looking back at this year and forward to the next, we at Routes have continued to feel an incredible sense of pride to be part of this industry. This is a resilient industry ready to meet the challenge ahead. It is an industry that has continued to step up and not step back in the face of this pandemic. It is an industry that has adjusted to new market patterns, regulations and business practices. And now, it is an industry focused on the future and building back as quickly as possible.

At Routes, our role has, and will always be, to bring together the route development community to build air services for the economic and social good of every destination. We are committed to continuing to play our part in making sure this recovery and rebuild are a strong as they possibly can be. I would like to take this opportunity to thank our industry partners for their continued support and look forward to seeing you at our events next year.