Routes In Brief: Rolling Daily Updates (W/C Jan. 24)
Routes details the latest new route announcements, as well as the services returning to carriers' networks.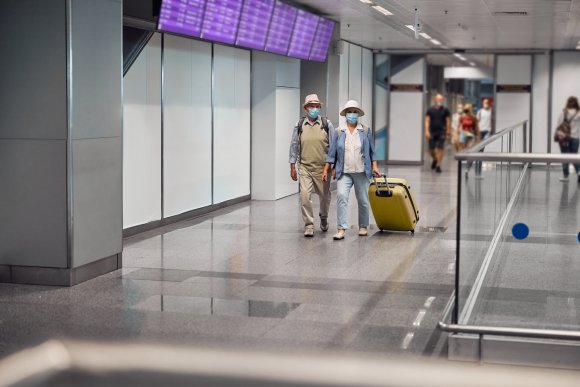 Welcome to our rolling daily coverage of new routes alongside services that are scheduled to resume.
Do you have a story you would like us to feature? Let us know your network news.
---
Jan. 28
Scandinavian LCC Norwegian is launching three new routes from Trondheim (TRD) and one from Stavanger (SVG). The first two services from Trondheim will launch on April 7, connecting the Norwegian city with Copenhagen (CPH) three times per week and Berlin (BER) twice a week. A route linking Trondheim and Manchester (MAN) will also launch on Aug. 15, operating twice a week. From Stavanger, Norwegian intends to open a 2X-weekly service to Paris Charles de Gaulle (CDG) on June 15, operating until Aug. 14. As well as launching the routes from Trondheim and Stavanger, Routes reported on Jan. 27 that Norwegian plans to reopen its base at Stockholm Arlanda (ARN) from April.
---
El Al Israel Airlines will resume nonstop service to Boston Logan (BOS) in March. The carrier launched the route from Tel Aviv (TLV) in 2015 and provided regular flights until the onset of the pandemic. Operations will restart on March 27 and be 2X-weekly on Thursdays and Sundays using Boeing 787s. El Al also has a codeshare agreement in place with JetBlue at Boston, enabling passengers to connect to onward destinations including Atlanta (ATL), Pittsburgh (PIT) and Philadelphia (PHL). Flights will depart Tel Aviv at 12.50 a.m. and arrive in Boston at 5.30 a.m. The return service leaves the US city at 8.30 p.m. and arrives back in Tel Aviv at 1.50 p.m. the following day.
---
Fresh from announcing routes to Amman (AMM), Lyon (LYS) and Sochi (AER), Air Serbia plans to add scheduled service to two new destinations in Germany and one in Austria. The airline will operate flights between Belgrade (BEG) and Hanover (HAJ) three times a week from June 3 during the summer season, and 2X-weekly during the winter season. A route between Belgrade and Nuremberg (NEU) will open on June 6 and operate twice a week, year-round. The expansion increases Air Serbia's network in Germany to eight destinations. In Austria, the carrier is adding flights between Belgrade and Salzburg (SZG) from June 7, flying 3X-weekly during the summer season and 2X-weekly in winter.
---
Jan. 27
Los Angeles (LAX) will return to Austrian Airlines' network from May 20 for the first time since October 2019. The carrier plans to offer five flights per week from Vienna (VIE) on Mondays, Tuesdays, Thursdays, Fridays and Saturdays. The flight time from Vienna to Los Angeles, about 9,900 km away, is 12 hours and 30 minutes. "We are continuously expanding our offer with new long-haul destinations," CCO Michael Trestl said. "This corresponds to our passengers' demand that already showed last summer that they want to travel."
---
Colombian flag-carrier Avianca is resuming flights to Spain's capital Madrid (MAD) from Cali (CLO) and Medellin (MDE). Service from Cali will be 4X-weekly starting on March 27, while flights from Medellin will restart on March 29 and be 3X-weekly. The routes will be operated using Airbus A330s and Boeing 787s.
---
Russia's Ural Airlines has confirmed plans to resume three routes to Tel Aviv (TLV) in Israel. Flights from Krasnodar (KRR), St Petersburg (LED) and Zhukovsky (ZIA) will operate on Wednesdays from March 2. A Thursday flight between Krasnador and Tel Aviv will also begin on March 31.
---
---
Jan. 26
Saudia has announced plans to add Thailand to its network from May. The carrier has not confirmed which destinations will be served but said reservations for nonstop flights will open soon. The planned expansion comes after Saudi Arabia and Thailand agreed on Jan. 25 to restore full diplomatic ties during a visit to Riyadh by Thai Prime Minister Prayut Chan-ocha. The agreement to normalize relations ends a 30-year dispute that was triggered by the 1989 theft of gems belonging to the Saudi royal family by a Thai employee.
---
Azul Linhas Aéreas will this week inaugurate flights linking Curitiba (CWB) with 10 cities in the interior of the state of Paraná, located in southern Brazil. The airline will add service to Apucarana; Arapongas; Campo Mourao; Cianorte; Cornelius Procopio; Francisco Beltrao; Guaira; Telemaco Borba; Umuarama; and Uniao da Vitoria. Flights will be operated by subsidiary Azul Conecta using Cessna Grand Caravan aircraft with a capacity for nine passengers.
---
---
Jan. 25
Lufthansa has filed plans to serve Doha (DOH) during the forthcoming FIFA World Cup in Qatar. The airline will offer five flights per week from Frankfurt (FRA), starting on Nov. 14 through Dec. 19. Service will be onboard Airbus A340-300s. OAG data shows that the German carrier last served Doha in October 2017 when it operated a Frankfurt-Kuwait (KWI)-Doha route.
---
American Airlines is further expanding its operations at Austin-Bergstrom (AUS) by adding new destinations in Mexico and Jamaica. The carrier plans to serve Cozumel (CZM}) and Montego Bay (MBJ), starting June 11 with a weekly flight each. The routes will be operated by American Eagle via Envoy Air on 76-seat Embraer 175 aircraft.
---
Scandinavian startup Skåneflyg will launch operations on March 28, connecting Kristianstad Österlen (KID) and Stockholm Bromma (BMA). The route will be served using a 33-seat Saab 340 under a leasing agreement with NyxAir. Kristianstad Österlen has been without scheduled service since March 2020 at the onset of the pandemic when Braathens Regional Aviation suspended its KID-BMA service.
---
Jan. 24
Austrian Airlines is resuming scheduled operations to the Greek island of Samos this summer. Schedules filed with OAG show the carrier plans to serve Vienna (VIE)-Samos (SMI) once a week on Mondays from June 6 using Embraer 195s. The airline previously served the island until September 2015 and had intended to return in summer 2020 until the onset of the pandemic forced the plans to be halted. In December 2021, Austrian said it expects to offer 110 destinations worldwide during the summer 2022 season with around 1,300 weekly frequencies. Vacation destinations such as Catania, Ibiza, Palma de Mallorca, Keflavík and Mykonos—which were previously part of the airline's charter program—can now be booked as regular flights.
---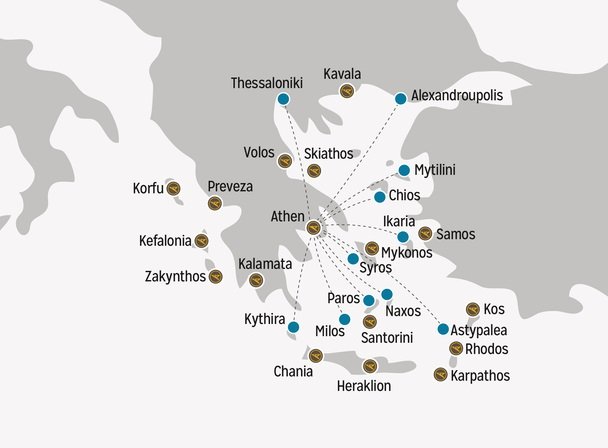 Condor has formed a partnership with SKY express that will increase its footprint in Greece. The German leisure airline plans to serve 17 destinations in the country this summer, and the new tie-up will give it access to 11 more. Under the terms of the agreement, SKY express will provide onward connections for Condor passengers via Athens (ATH), Rhodes (RHO), Corfu (CFU) and Heraklion (HER) to points including Naxos (JNX), Paros (PAS) and Mytilini (MJT).
---
Serbia's national carrier Air Serbia plans to begin scheduled flights to two new destinations in Italy in June. Service from Belgrade (BEG) to Trieste (TRS) starts on June 2, followed by Belgrade-Bologna (BLQ) on June 6. Both routes will be served 3X-weekly. "We are especially glad to commence direct flights to Trieste—the city with the biggest Serbian diaspora in Italy—while services to Bologna will furthermore contribute to strengthen our cultural and economic relations with Italy," head of network planning and scheduling Bojan Aranđelović said.
Aer Lingus will restart daily flights from Dublin (DUB) to San Francisco (SFO) on Feb. 25; daily flights to Los Angeles (LAX) on May 12; and a 5X-weekly service to Seattle (SEA) on May 26. The Irish carrier also plans to operate 2X-daily Dublin-Washington Dulles (IAD) service with Airbus A321LRs from June 9.
---
Geneva Airport (GVA) has secured new connections to Izmir (ADB) in Turkey and Hammamet (NBE) in Tunisia with easyJet. The seasonal routes will each be served three times per week on Tuesdays, Thursdays and Saturdays and run until Oct. 29.
---
Egyptair is restarting regular service to Algiers (ALG), the capital of Algeria, from Feb. 6. The route from Cairo (CAI) will initially operate with two flights per week on Thursdays and Sundays using a mix of A330-300s and Boeing 737-800s. OAG data shows frequencies will increase to 3X-weekly from late March using only 737-800 equipment. Egyptair has provided a limited number of scheduled flights to Algiers during the pandemic, last serving the city in October 2021.