Routes In Brief: Rolling Daily Updates (W/C Feb. 28)
Routes details the latest new route announcements, as well as the services returning to carriers' networks.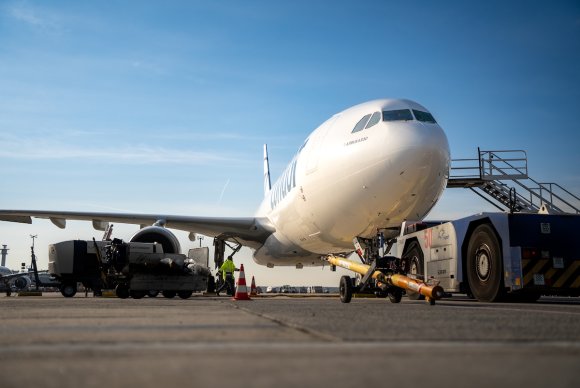 March 4
Condor has resumed flights between Frankfurt (FRA) and Routes World 2022 host Las Vegas (LAS). The airline will offer service on Tuesdays, Thursdays and Sundays. "We feel a great pent-up demand for travel to the US and Las Vegas has been one of the most popular destinations for our guests for years," said Ralf Teckentrup, Condor CEO. H. Fletch Brunelle, vice president of marketing for the Las Vegas Convention and Visitors Authority, added: "Germany represents our largest source of international visitors from continental Europe, and we are excited to welcome Condor and its passengers back to Las Vegas." Las Vegas is one of 16 destinations in North America that Condor will fly to nonstop in summer 2022.
---
TUI UK has added an additional based aircraft at Manchester (MAN) this summer. The move will enable the airline to add capacity to seven destinations served from the airport. Antalya (AYT) and Dalaman (DLM) in Turkey will be served 10X-weekly and 11X-weekly respectively; Crete (CHQ), Kefalonia (KEF) and Rhodes (RHO) in Greece will be 6X-weekly, 5X-weekly and 7X-weekly respectively; Paphos (PHO) in Cyprus will be 7X-weekly; and Palma (PMI) in Spain will be 13X-weekly.
---
Jetstar Australia will resume flying between Melbourne (MEL) and Bali (DPS) on March 14 for the first time since flights were grounded in March 2020. Service will be 3X-weekly.
---
Irish ULCC Ryanair has announced more new routes to its summer schedule, this time from Santiago (SCQ) in Spain. Ten new services are being added to the carrier's network, taking the number of destinations served from the airport to 26. Two domestic routes are being opened to La Palma (SPC) and Girona (GRO) alongside eight new international services. The additional international connections are to Bologna (BLQ), Bordeaux (BOD), Brussels Charleroi (CRL), Dublin (DUB), Edinburgh (EDI), Memmingen (FMM), Marseille (MRS) and Paris Beauvais (BVA).
---
March 3
Norwegian startup Flyr is opening a further five routes from Oslo (OSL) during the summer 2022 season. The airline will add a route to Ibiza (IBZ) from June 9, followed by service to Madrid (MAD) from June 23. Flights to Valencia will start on June 30. All three Spanish routes will be served 2X-weekly. Two Portuguese routes will begin the following month, with service to Porto (OPO) and Faro (FAO) beginning on July 1. Porto will receive two flights per week and Faro one per week.
---
Italian carrier ITA Airways has launched flights between Rome Fiumicino (FCO) and Miami (MIA). The route will initially be served 3X-weekly, growing to 5X-weekly in April and daily in June. Italy was one of MIA's top 20 international markets before the pandemic, generating nearly 400,000 total passengers in 2019. Italy is not currently served by any other airline at MIA.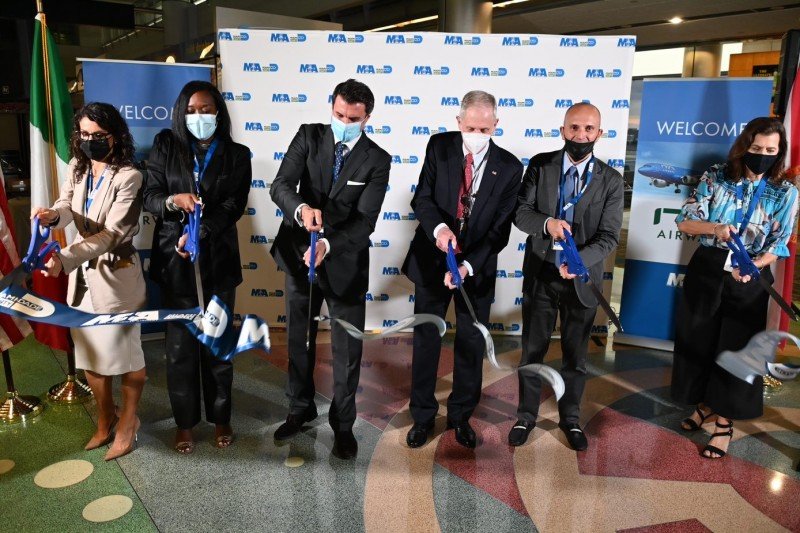 ---
Ireland's Aer Lingus has announced the restart of 19 routes to vacation destinations in Europe. "There is no doubt that travel is back on the agenda in 2022 and restarting these routes is another important step for the airline," director of global sales Bill Byrne said. "We are looking forward to welcoming the many families, friends and solo travellers back on board who are excited for a long-awaited sun holiday."
---
Eleven new routes are being launched from Bordeaux (BOD) by Ryanair this summer. The ULCC plans to add service to Zadar, Malta, Pisa, Trapani, Santiago de Compostela, Alghero, Barcelona, ​​Birmingham, Brindisi, Rome Fiumicino and Madrid. In total, the airline will serve 42 destinations from the French city and base three aircraft in Bordeaux. "The major flight program offered by Ryanair over the summer season supports our objective of connecting the territory to many new destinations," said Simon Dreschel, chairman of the management board of Bordeaux Airport.
---
March 2
Ryanair plans to fly to 61 destinations from Paris-Beauvais (BVA) this summer with the launch of 13 new routes. The destinations joining the ULCC's network from the French airport are Madeira (FNC), Leeds (LBA), Santiago (SCQ), Agadir (AGA), Malaga (AGP), Edinburgh (EDI), Gdansk (GDN), Helsinki (HEL), Liverpool (LPL), Riga (RIX), Santander (SDR), Tallinn (TLL) and Turin (TRN). In total, Ryanair will offer more than 240 weekly flights from Paris-Beauvais this summer—a record for the carrier.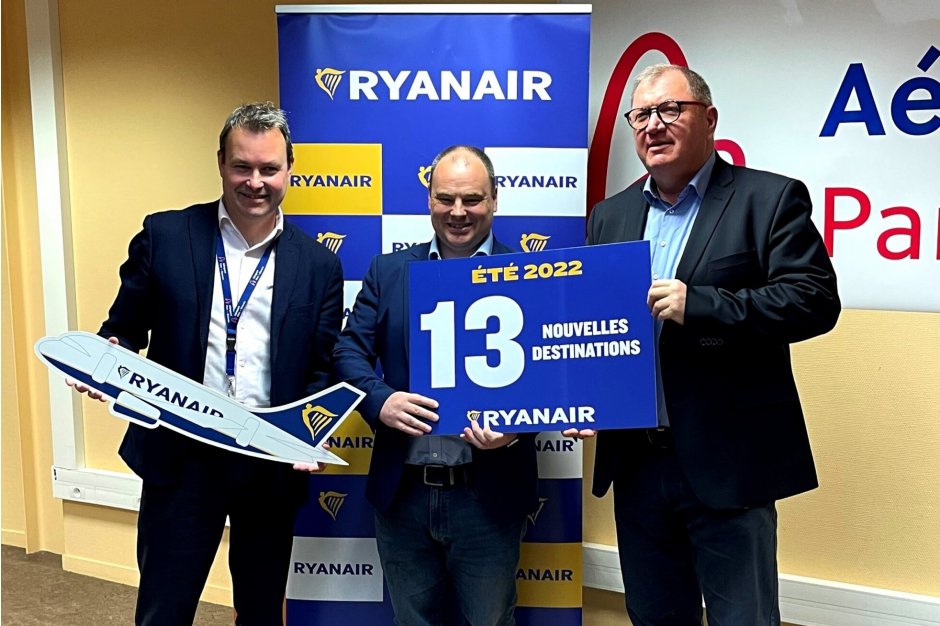 ---
Greece's SKY express and Air France-KLM Group subsidiary Transavia have signed an interline agreement. SKY express commercial director Yannis Lidakis said the cooperation would offer passengers more choice and strengthen the respective networks of both carriers.
---
ITA Airways has launched its inaugural flights to Boston (BOS). The route from Rome Fiumicino (FCO) will operate on Wednesdays and Saturdays during the first three weeks of March, increasing to 3X-weekly by the end of the month and up to 5X-weekly in April and May. Flights will be on board Airbus A330 aircraft. ITA intends to take the route daily by September.
---
American Airlines and Alaska Airlines are the latest carriers to suspend relationships with Russian carriers following Moscow's invasion of Ukraine. The US airlines have halted interline agreements with both Aeroflot and fellow oneworld member S7 Airlines. In a statement Alaska said it was "deeply concerned by the humanitarian crisis taking place in Ukraine."
---
March 1
Iberia franchisee Air Nostrum is expanding capacity on a number of Spanish domestic routes. The airline plans to serve Valencia (VLC)-Ibiza (IBZ) 13X-weekly during the summer season—up 9% on the same period in 2019. Service from Valencia to Mallorca (PMI) will also grow to 10X-weekly, increasing capacity by 26% compared to pre-pandemic levels, while Menorca (MAH) will be served 2X-weekly, growing to daily from March 27. This represents growth of 26% compared with summer 2019. In addition, Air Nostrum said it would improve connectivity between the Balearic Islands. Ibiza-Mallorca will be served 43X-weekly from March 1 and Menorca-Mallorca 41X-weekly. Finally, the carrier plans to offer 4X-weekly Valencia-Malaga (AGP) frequencies and 13X-weekly Valencia-Seville (SVQ) frequencies during March 2022, increasing capacity by 9% and 7% respectively compared with March 2019 levels.
---
American Airlines is opening a new seasonal nonstop route between Coastal Carolina Regional Airport (EWN) in North Carolinian and Ronald Reagan Washington National (DCA) from June 4. Flights will be operated on Saturdays using CRJ-700 regional jets fitted with 65 seats. The route is scheduled to run through Aug. 13.
---
Brazil's GOL Linhas Aéreas is launching flights from São Paulo Guarulhos (GRU) to the cities of Ribeirão Preto (RAO) and São José do Rio Preto (SJP). Both destinations will be served daily from March 6. Flights will be operated by regional partner VOEPASS using ATR-72 aircraft.
---
IATA expects overall traveler numbers to reach 4 billion in 2024, exceeding 2019 levels by 3%. The forecast follows confirmation that the overall number of passengers reached 47% of 2019 levels in 2019. This is expected to improve to 83% in 2022, 94% in 2023, 103% in 2024 and 111% in 2025. In 2021, international traveler numbers were 27% of 2019 levels. This is expected to improve to 69% in 2022, 82% in 2023, 92% in 2024 and 101% in 2025.
Feb. 28
Emerald Airlines on Feb. 26 operated its first scheduled services from Donegal (CFN) to Dublin (DUB). The startup was selected in January selected as the new operator of the Public Service Obligation (PSO) air route, providing an air link between north west Ireland and Dublin in the absence of a motorway or rail network in the region. The Aer Lingus brand franchise will operate up to 4X-daily flights using 72-seater ATR 72-600s.
---
German leisure carrier Condor has launched nonstop service between Frankfurt (FRA) and Jinan (TNA) in China. Flights to the city in the province of Shandong will take place every Monday. Jinan is considered to be the industrial center of the province and an important transportation hub halfway between Beijing and Shanghai on the Yellow River. "Many German and international companies have settled in and around Jinan," Condor said in a statement. "But the area also has much to offer culturally: nearby Jinan, Mount Tai Shan is the holiest mountain in Taoism and millions of people climb it every year."