Routes In Brief: Rolling Daily Updates (W/C Oct. 3, 2022)
Routes details the latest new route announcements, as well as the services returning to carriers' networks.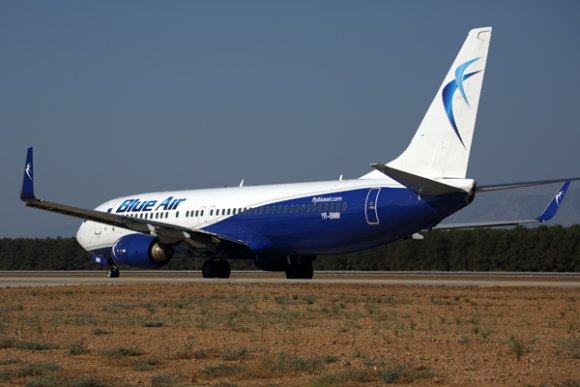 Oct. 7
Ryanair is launching two new routes from Shannon (SNN) in Ireland during the northern summer 2023 season. Flights to Newcastle (NCL) in the UK will begin on March 26, operating 3X-weekly, and a 2X-weekly service to Béziers (BZR) in the south of France will start the following day. In total, Ryanair plans to operate 24 routes from Shannon during the season, offering more than 180 weekly flights. This represents an increase of 60% on pre-pandemic levels. "The addition of two new routes and a third based aircraft here at Shannon demonstrates Ryanair's continued commitment and is another vote of confidence in our airport," CEO of The Shannon Airport Group Mary Considine said.
---
Porto (OPO) in Portugal is being added to the network of Icelandic carrier Play. The airline will begin service from Reykjavik (KEF) in April 2023. Service will run twice a week through October 2023. Porto will be Play's second destination in Portugal alongside the capital Lisbon (LIS). "We want to be the leading airline between Iceland and the Iberian Peninsula and are working toward that goal by adding Porto as a destination in 2023," Play CEO Birgir Jónsson said.
---
Aer Lingus is resuming its daily Dublin (DUB)-Hartford Bradley (BDL) from March 26, 2023. Flights will operate using Airbus A321neo equipment. The route will become the carrier's 16th transatlantic service from Ireland. "Daily flights to Hartford will bring travellers into the centre of Connecticut, home to global businesses, Yale University and renowned tourist attractions,2 Aer Lingus CEO Lynne Embleton said.
---
ULCC Spirit Airlines has launched two nonstop services to Monterrey International Airport (MTY) in Mexico. Flights from both Austin (AUS) and Houston (IAH) will be daily. "Monterrey attracts vacationers, and family and friends all year long and is a great addition for our guests looking for high-value options to visit Mexico's third-largest city," Spirit VP of network planning John Kirby said. MTY is the fourth Mexican airport Spirit serves, adding to its operations at Cancun (CUN), Los Cabos (SJD), and Puerto Vallarta (PVR).
Oct. 6
Jetstar Japan will restart daily flights between Manila (MNL) and Tokyo Narita (NRT) on Dec. 16 for the first time in nearly three years. This is the first international destination Jetstar Japan will operate since international borders reopened allowing two-way quarantine-free travel for fully vaccinated passengers. "There is a lot of pent-up demand for services in and out of Japan and we know customers are eager to snap up low fares to this popular destination," Jetstar Asia CEO Bara Pasupathi said. Jetstar Japan is the second airline in the Jetstar Group to resume international operations to and from Japan, following the relaunch of Jetstar Airways' services from Cairns (CNS) and Gold Coast (OOL) to Narita and Cairns to Osaka Kansai (KIX).
---
Transavia.com France has inaugurated new routes from Paris-Orly (ORY) to destinations in Algeria and Egypt. The LCC will serve Bejaïa (BJA) in Algeria with up to four flights per week until the end of October, then one daily service until the end of March 2023. Flights to Luxor (LXR) will be weekly on Saturdays. "Luxor is undoubtedly the flagship destination of our network this winter," said Nicolas Hénin, deputy general manager sales and marketing at Transavia France. "Holidaymakers now have the possibility of reaching the Nile Valley and its temples through a quality low-cost offer." He added that the airline also expects the Paris-Bejaïa service to attract strong VFR flows.
---
EasyJet has put its summer 2023 schedule on sale that includes almost 250,000 flights between May 9 and Sept. 30. The carrier said it plans to serve 104 destinations in Europe, North Africa and the Middle East from 19 UK airports. In total, it will offer some 414 routes from and within the UK.
---
Oct. 5
China Airlines is opening a 5X-weekly route to Routes Asia 2022 host Da Nang (DAD) in Vietnam. Flights from Taipei (TPE) will operate on Mondays, Tuesdays, Wednesdays, Fridays and Saturdays using Airbus A321neo aircraft. The route will become the airline's third to Vietnam alongside existing services from TPE to Hanoi (HAN) and Ho Chi Minh City (SGN). OAG data shows that Starlux intends to begin a TPE-DAD route on Oct. 30, while EVA Airlines will resume daily service on Dec. 1.
---
Avianca is adding a route connecting San Salvador (SAL) in El Salvador, Guatemala City (GUA) in Guatemala, and San Pedro Sula (SAP) in Honduras. Flights will be three times per week on Tuesdays, Thursdays and Sundays using A320s. "Guatemala, San Pedro Sula and San Salvador are important cities for trade and tourism in the Central American region, and like Avianca, we want to give our customers more and better connectivity options between these cities and, above all, give Guatemalans a direct option to connect with San Pedro Sula, one of the most important industrial cities in Central America," said Rolando Damas, Avianca sales director for North America, Central America and the Caribbean.
---
Ryanair plans to launch a new route connecting Dublin (DUB) and Cluj (CLJ) in Romania during the forthcoming winter 2022 season. Service will begin on Nov. 1, operating twice a week. The airline said the service would cater for "those traveling home to Cluj to spend Christmas with friends and family but whose travel plans have been disrupted by Blue Air's recent suspension of this route." Blue Air suspended all flights in September and this week postponed plans to resume flying on Oct. 10.
---
Samarkand International Airport (SKD) in Uzbekistan has welcomed its first Azerbaijan Airlines flight. Service from Baku's Heydar Aliyev International (GYD) began Oct. 5 and will operate twice a week. "Facilitating transportation between Baku and Samarkand via this new route will be mutually beneficial to Uzbekistan and Azerbaijan, strengthening our countries' cultural and commercial links," said Artyom Pak, CCO of SKD airport management company Air Marakanda. SKD has been redeveloped and expanded in an $80 million project between Air Marakanda and state partner Uzbekistan Airports JCS. The new airport will serve the region's population of 3.9 million and act as a hub for international transit flights.
---
Oct. 4
Wizz Air plans to add a new route form Göteborg Landvetter (GOT) to Rome Fiumicino (FCO) during the summer 2023 season. Beginning April 30, 2023, the ULCC will operate a 2X-weekly service on Wednesdays and Sundays, using Airbus A321neo aircraft. With the new service to its Rome base, Wizz Air will offer a total of eight direct routes from Gothenburg next summer to destinations in Central and Eastern Europe. Norwegian previously served GOT-FCO until October 2018, while Ryanair offered GOT-Rome Ciampino (CIA) flights until August 2020. The new Wizz route comes days after the carrier inaugurated its first service from FCO to Dammam (DMM) in Saudi Arabia. Flights between the cities will be twice a week and Wizz will be the sole operator on the sector.
---
Cyprus Airways has said it plans to double capacity during the summer 2023 season. Flights to Athens, Beirut, Tel Aviv, Cairo and Yerevan are already on sale with service to Heraklion, Rhodes, Thessaloniki, Skiathos, Santorini and Preveza expected to go on sale as soon as airport slots are confirmed. "As air travel continues to fast recover and expected to reach pre-COVID levels next year, we are aiming to match this demand by offering more destinations, frequencies, and seats," CCO Madonna Hoyek said. The carrier added it expects at least five more destinations will join its network next summer.
---
Budapest (BUD) has welcomed the arrival of a new airline following the launch of Korean Air's new route from Seoul Incheon (ICN). Flights started on Oct. 3 and will operate twice a week using 787-9s. "Having recorded four times as many South Korean visitors during the first five months of 2022 when compared to the same period of last year, we expect this route to be in high demand from both tourist and business perspectives," Budapest's head of airline development Balázs Bogáts said.
---
Oct. 3
Romania's Blue Air has postponed plans to resume flying on Oct. 10. The airline suspended flights on Sept. 6 after accusing the Environment Ministry of blocking access to its bank accounts. In a statement announcing that it would miss the Oct. 10 date, the LCC said it was "doing its best to resume flight operations." It added: "To that end, Blue Air is currently in discussions with potential investors, lenders and the Romanian government to restructure its capital profile so as to be able to resume air operations."
---
Vistara, a joint venture between Tata Group and Singapore Airlines, has inaugurated a new nonstop route between Mumbai (BOM) and Abu Dhabi (AUH). Flights will be daily. "UAE's flourishing business, trade, and tourism make Abu Dhabi a perfect fit in our network," Vistara CEO Vinod Kannan said.
---
Cebu Pacific is adding more flights from its Davao (DVO) and Cebu (CEB) hubs. From Oct. 30 and 31 respectively, the LCC will resume service from DVO to Cagayan de Oro (CGY) and Bacolod (BCD). Davao-Bacolod will be 3X-weekly, and Davao-Cagayan de Oro will be 4X-weekly. The airline will also restart its first international flight from Davao on Oct. 30, connecting the airport with Singapore (SIN). Cebu Pacific said it also expects to add more flights from CEB to key domestic destinations in the Philippines during November. This includes service to Bacolod, Butuan, Cagayan de Oro, Iloilo, General Santos, and Puerto Princesa, among others.
---
Condor has resumed flights to two destinations in Africa, with a third to follow Oct. 4. The German carrier has restarted a 2X-weekly Frankfurt (FRA)-Zanzibar (ZNZ)-Mombasa (MBA) service, operating on Fridays and Sundays. From Oct. 4, the airline will also resume Frankfurt-Cape Town (CPT) on Tuesdays, Thursdays and Saturdays. The three destinations were last flown to in early 2020.