Chinese Carriers To Expand US Operations, Cathay To Double China Schedule
The planned changes coincide with China dropping quarantine requirements for inbound travelers.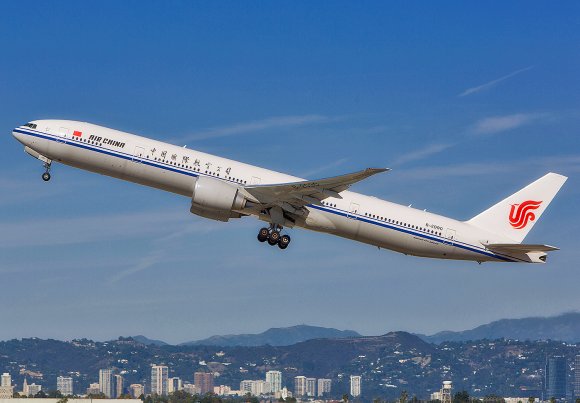 Chinese airlines Air China and Hainan Airlines have filed plans to expand their schedules to the US as China ends its quarantine measures for international arrivals in the country on Jan. 8.
The intended network growth comes despite the US announcing new restrictions for travelers from the country as coronavirus cases have surged in China following Beijing's relaxation of zero-COVID rules.
Documents filed with the US Transportation Department (DOT) show that Air China will increase its existing services to Los Angeles (LAX) from Beijing Capital (PEK) from the currently weekly service to daily using Boeing 777-300ER aircraft.
Three additional routes have also been scheduled from Beijing Capital: The airline plans to serve New York John F Kennedy (JFK) daily from Jan. 17; San Francisco (SFO) 4X-weekly from March 1; and Washington Dulles (IAD) 3X-weekly from March 2. Frequencies between Shenzhen (SZX) and Los Angeles will be maintained at the current one flight per week.
In addition, Hainan Airlines plans to resume regular US service for the first time since the onset of the pandemic in early 2020. From Feb. 17, the carrier will operate Beijing Capital-Boston (BOS) and Beijing Capital-Seattle (SEA) three times per week.
A 3X-weekly Shanghai Pudong (PVG)-Boston route will also commence on Feb. 17 alongside a 2X-weekly Chongqing (CKG)-New York JFK service.
Air China and Hainan Airlines' network additions come as China prepares to drop its quarantine requirements for inbound travelers on Jan. 8. The country adopted a zero-COVID strategy for most of the pandemic, but abruptly eased those measures in December.
China is also ending its international flight cap, a policy which allowed mainland carriers to fly just one flight a week on one route to any country and international airlines to operate just one flight a week to China.
The sudden removal of most COVID restrictions last month has led to a surge in cases. The rise has prompted the likes of the US, the UK, Spain, Italy and Japan to impose new testing requirements on Chinese arrivals.
IATA director general Willie Walsh on Jan. 4 described the moves as "extremely disappointing," saying they were a "knee-jerk reinstatement of measures that have proven ineffective over the last three years."
As well as easing restrictions for inbound arrivals from Jan. 8, the Chinese government has also announced that it will reopen its border with Hong Kong on the same day. The move ends a mandatory quarantine for travelers from Hong Kong to the mainland although a negative PCR test will still be required.
In response, Cathay Pacific said it would more than double its flights into the Chinese mainland, operating 61 return flights per week between Hong Kong (HKG) and 13 cities from Jan. 14. This compares to the 27 flights per week from Hong Kong to the mainland, and 50 flights per week from the mainland to Hong Kong that the airline is currently operating.
From Jan. 8, Hong Kong-Beijing Capital will rise to 10X-weekly in both directions, and Hong Kong-Shanghai Pudong will become 3X-daily. The oneworld alliance member is also resuming flights to Guangzhou (CAN) with five return flights per week.
Elsewhere, from Jan. 14 Cathay will increase its flights between Hong Kong and Xiamen (XMN) to four pairs per week, and between Hong Kong and Chengdu (CTU) to six pairs per week.