Emirates Expands China Schedule, Scales Up A380 Operations
The Dubai-based airline is resuming passenger flights to two Chinese cities, and adding capacity to another, while increasing Airbus A380 operations on a number of other routes.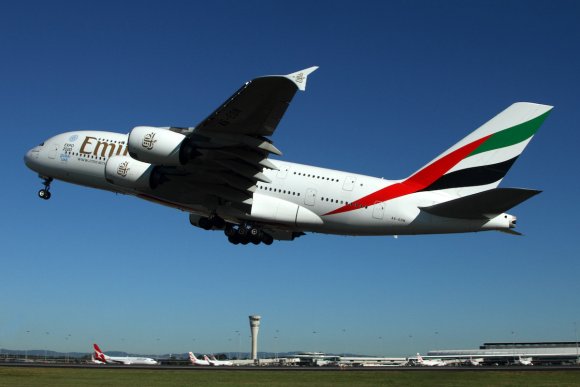 Emirates is to increase flying to China ahead of the Lunar New Year holiday and has announced plans to further scale up Airbus A380 operations.
The expansion of its Chinese network comes a week after Beijing dropped quarantine requirements for inbound passengers and ended restrictions on international flights under the "five-one" policy.
In response, Emirates said it plans to resume passenger routes from Dubai (DXB) to both Shanghai Pudong (PVG) and Beijing Capital (PEK), as well as increase service to Guangzhou (CAN).
Shanghai returns to the Gulf carrier's network from Jan. 20, starting with two flights per week using A380s. The outbound leg will be nonstop, while the return will operate via Bangkok (BKK).
Service will double to 4X-weekly from Feb. 2 operated by a three-class Boeing 777-300ER, before increasing to daily from March 1.
Emirates is also restarting daily passenger service to Beijing Capital (PEK) from March 15 onboard 777-300ERs, while Guangzhou will see frequencies rise from four flights per week to daily from Feb. 1 using A380s. The airline currently operates the return leg from Guangzhou via Bangkok but will reinstate nonstop flights in both directions once frequencies become daily.
Elsewhere, Emirates has confirmed that A380 flights will return to Glasgow (GLA) from March 26, Nice (NCE) from June 1, and Birmingham (BHX) from July 1. The airline will also resume a second daily service to London Stansted (STN) from May 1, utilizing 777-300ER equipment.
Emirates currently deploys its flagship A380 to 40 destinations worldwide. By the end of the 2023 summer season, the aircraft will be serving almost 50 destinations, restoring close to 90% of the airline's pre-pandemic A380 network.
In addition, the carrier intends up frequencies to Brisbane (BNE) to 2X-daily. It currently serves the Australian city with one A380 flight but will operate a second daily service using 777-300ERs from June 1.
"This is a huge vote of confidence in the Brisbane and Queensland market. It effectively doubles overnight the Emirates capacity between the two cities, delivering more seats for major Middle East and European markets," Brisbane Airport Corporation CEO Gert-Jan de Graaff said. "In terms of rebuilding what was lost by COVID, this is a significant brick in the wall."