New $1.5 Billion Kansas City Airport Terminal To Open Feb. 28
The Missouri airport is preparing to close its existing terminals.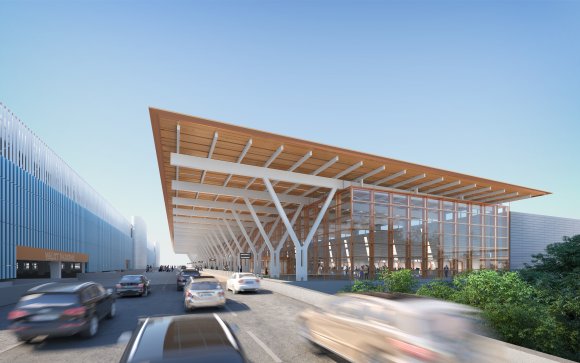 Southwest Airlines flight 904 will depart Kansas City International Airport (MCI) for Chicago Midway (MDW) at 5 a.m. on Feb. 28, inaugurating a new, single terminal at MCI after four years of construction.
Ground was broken on the $1.5 billion MCI terminal project in March 2019 on the site of the Missouri airport's Terminal A, which was no longer being used. Terminals B and C will close Feb. 27 as all airlines serving the airport move to the new facility.
Replacing a three-terminal horse-shoe configuration, the single terminal spanning more than 1 million ft.2 will have 39 gates—with room for 11 more gates to be added in the future—and an adjacent 6,300-space automobile parking garage.
"For the last four years the project team has worked diligently to keep the new terminal on schedule and on budget," MCI director of aviation Pat Klein said in a statement. "As we approach the finish line, I thank the stakeholders who've contributed greatly and the residents of the entire region for their ongoing support."
Kansas City residents voted by a 3-to-1 margin to build the new terminal in a 2017 ballot referendum.
According to MCI's website, airlines and the airport determined it would be "cheaper and better to build a new single terminal than try to renovate the existing three terminals" because "the existing space is too small and is the wrong configuration to accommodate larger planes, current security measures, covered passenger drop-off and pick-up and many other conveniences."
As of November 2022, Southwest was the MCI market share leader at 46.1%, according to airport statistics. Delta Air Lines followed at 21.7%, and United Airlines and American Airlines held shares of 12% and 11.1%, respectively. ULCC Spirit Airlines' MCI market share stood at 4.8% as of November.
The new terminal features a two-level curbside drop-off and pick-up area aimed at reducing roadside congestion at MCI.