Canada, Dominican Republic Sign Open Skies Agreement
The countries hope the new air transport agreement will promote tourism and trade by removing restrictions on flight frequencies, capacity and routes.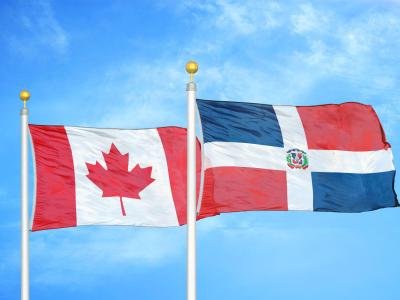 Canada and the Dominican Republic have signed a new air transport agreement, removing restrictions on flight frequencies, capacity and routes between the two countries.
The respective governments hope the open skies pact will increase tourism and trade, as well as diversifying the range of destinations linked by nonstop air service. The deal will allow airlines to operate between any airport in Canada and any in the Dominican Republic.
"This agreement will improve direct connectivity between the two nations and will boost air transport as a tool to promote tourism and trade, vital for the economic development of the country," says José Marte Piantini, president of the Dominican Republic's civil aviation authority Junta de Aviación Civil (JAC).
The treaty, signed by Piantini and Canadian ambassador Christine Laberge, says frequencies and capacity on routes between Canada and the Dominican Republic can now be determined by "commercial considerations" of the market.
It also includes provisions for ground handling services, charter or non-scheduled flights, and codeshare operations. Sixth freedom flights are also permitted under the agreement for passengers.
Piantini says that about 715,000 Canadians arrived in the Dominican Republic in 2022, while Canada is among the country's biggest trading markets.
According to the Canadian government, two-way merchandise trade with the Dominican Republic was $529 million in 2021. Canadian exports amounted to $286 million, and imports were valued at $253 million. Canada's foreign direct investment in the Dominican Republic is also significant, particularly in the areas of mining, finance and manufacturing.
Data provided by OAG Schedules Analyser show that five Canadian carriers serve the Canada-Dominican Republic market at the present time, collectively providing 70,200 nonstop two-way scheduled weekly seats between the countries. Flights mainly cater for Canadian leisure passengers seeking a warm weather winter vacation.
For the week commencing Feb. 6, Air Transat has a 39.7% capacity share of the market and offers 16 routes in total, while Sunwing has 31.2% and connects 24 airport pairs. Air Canada is the third largest operator with 13%, followed by WestJet on 7.9% and Swoop on 2.7%.
Although there are currently no Dominican Republic-based carriers serving the Canadian market, Victor Pacheco, CEO of Santo Domingo-headquartered Arajet, told Routes in October that the airline hopes to launch flights to Canada and the U.S. in the coming years.
"We want to fly to 17 points in North America and 54 in Latin America by around 2025," he said. "We believe we can connect the Americas via Santo Domingo."
This article was originally published on aviationweek.com.