Rome Airport Operator Creates Venture Capital Company To Fund Startups
Creation of Aeroporti di Roma's new investment firm follows the airport operator's unveiling of an "innovation hub" at Rome Fiumicino.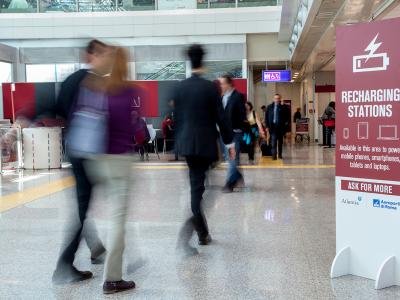 Aeroporti di Roma, which manages Rome's Fiumicino (FCO) and Ciampino (CIA) airports, has launched a venture capital company to fund travel sector projects with "high innovation potential."
The new firm, ADR Ventures, demonstrates Aeroporti di Roma's "determination to play our part in ensuring the development of an advanced ecosystem for innovation in the sector," Aeroporti di Roma CEO Marco Troncone says.
The creation of ADR Ventures comes just over three months after Aeroporti di Roma established an innovation hub at FCO with a €50 million ($54 million) investment. Describing the kinds of projects being explored at the innovation hub, an Aeroporti di Roma statement said: "There's a robot that delivers food and beverages to passengers anywhere in the airport and another, powered by solar energy, that moves autonomously cleaning the terminals as it goes and, once at rest, turns into a comfortable bench to sit on."
ADR Ventures will "aim to operate as an engine for the development of young entrepreneurship, ensuring support for the most virtuous and prospective startups, accompanying them in the integration with the business and in the management of investment processes, accelerating their business growth process and the commercialization of the innovative solution devised," according to an Aeroporti di Roma statement.
Troncone says the idea behind the innovation hub and venture capital company is to "engage high-potential startups, provide them with support and invest in the projects with the greatest potential."
The FCO innovation hub has been described by the airport operator as "an ecosystem of approximately 650 m2 (7,000 ft.2) dedicated to creating new synergies, with the mission of generating value by identifying the [startups] of the future who will contribute to developing solutions capable of redefining industry paradigms."
ADR Ventures, according to Aeroporti di Roma, will be charged with "managing investments in the capital of startups through due diligence, monitoring companies in which investments have been planned, and identifying through dedicated scouting potential target companies characterized by growth prospects."
This article was originally published on aviationweek.com.