Changi Airport To Begin First Auto-Dolly Unit Load Device Tests
Singapore Changi says it will become the world's first airport to test the autonomous loading and unloading of a unit load device (ULD) at the aircraft stand.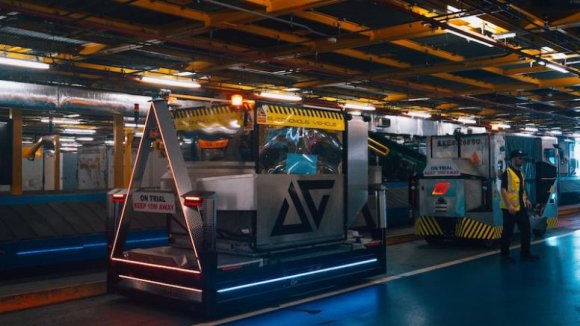 SINGAPORE—Following the successful first road tests of its autonomous baggage dollies, Singapore Changi Airport has entered the second phase which will see its Auto-Dolly move to the aircraft apron and commence self-unloading tests of unit load devices (ULD).
Changi said it will become the world's first airport to test the autonomous loading and unloading of ULDs at the aircraft stand.
The airport's Terminal 5 Specialized Systems (T5SS) unit has collaborated with UK-based Aurrigo to automate the driving of baggage tractors, which Changi says requires the highest number of drivers in the airside. Aurrigo has also developed the Auto-DollyTug to tow three additional trailers. The project has received investment from the Civil Aviation Authority of Singapore (CAAS) through its Aviation Development Fund (ADF).
Changi says that the Auto-Dolly has a small footprint and tight turning radius, allowing it to maneuver itself precisely next to the Skyloader equipment that loads and unloads ULDs to the aircraft.
"Observations and data from the trials will help Changi to refine and sharpen the concept of operations in the push toward the airport's vision of the future, where a combination of multi-skilled airside workers will be augmented by different types of autonomous vehicles to deliver seamless operations," the airport says in a statement. "This will help Changi to gradually overcome manpower challenges and continue to grow our air hub in a sustainable manner, as air traffic continues to grow."
This article was originally published on aviationweek.com.