Port Authority, JetBlue Break Ground On New York JFK Terminal
The Terminal 6 project is part of the overall $18 billion renovation of New York Kennedy International Airport.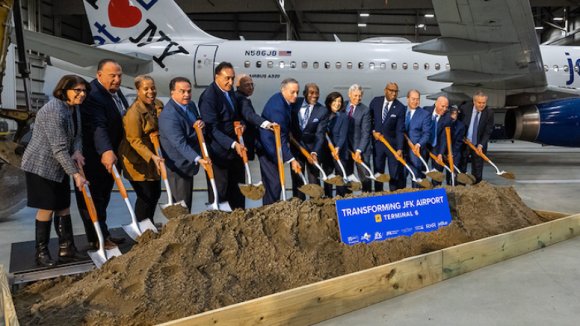 Ground has been broken on New York Kennedy International Airport's (JFK) Terminal 6, the 1.2 million-ft.2 facility that will serve as JetBlue Airways' primary home.
The construction project, managed via a public-private partnership between the Port Authority of New York and New Jersey and the JFK Millennium Partners consortium, is considered the final piece of the massive $18 billion modernization of the airport.
The cost of the Terminal 6 project is tagged at $4.2 billion. It will add 10 new gates to JFK, including nine widebody gates. In addition to JetBlue, Lufthansa Group's JFK flights will also be based at Terminal 6
JFK Millennium Partners says it is developing the new terminal in two phases, with a partial opening in 2026 and construction fully completed in 2028. "The new terminal will create an anchor for passenger travel on JFK's north side, spanning the sites of the former Terminal 6 and the existing Terminal 7," the consortium stated, noting that the 50-year-old Terminal 7 will be demolished in 2026 to make way for the second phase of Terminal 6's construction.
According to the consortium and the Port Authority, Terminal 6's "arrivals and departures hall will feel spacious, bright, and airy thanks to floor-to-ceiling windows and high ceilings throughout the new terminal... Passengers will enjoy more than 100,000 ft.2 of world-class shopping and dining."
The Port Authority says it is committing $130 million to build "enabling infrastructure for the new Terminal 6," which includes projects such as utility enhancements to provide electrical support for construction.
Port Authority Executive Director Rick Cotton said during the Feb. 23 groundbreaking ceremony at JetBlue's JFK maintenance hangar that Terminal 6 was the result of extensive negotiations between various stakeholders. "We stopped talking," he said. "We stopped negotiating, and we [now] start doing. Investment dollars are flowing from the private sector and shovels are in the ground."
JetBlue says the new terminal "will connect seamlessly with JetBlue's current home at Terminal 5, adding gates and opportunity for the airline to add flights, destinations and partner airline connections."
"As we move JFK into the future with a new, state-of-the-art, customer-focused facility, we are so pleased to have an opportunity to expand our presence with new gates in a new terminal," JetBlue CEO Robin Hayes said.
The JFK modernization includes a $9.5 billion Terminal 1 on the airport's south side, on which ground was broken in September 2022. It also includes the $1.5 billion expansion of Terminal 4, where Delta Air Lines is based, and the $400 million expansion of Terminal 8, where American Airlines and British Airways are based.
This article was originally published on aviationweek.com.