Charlotte Douglas Airport Progresses Terminal Lobby Project
The North Carolina airport is revamping security checkpoints, among other initiatives.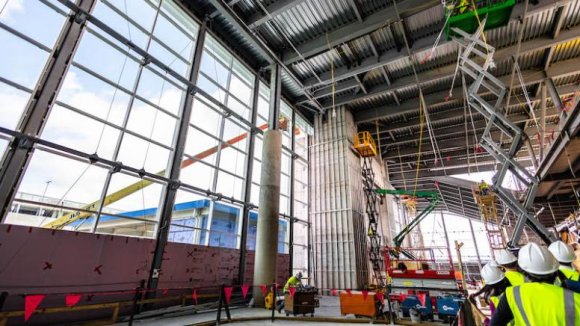 Charlotte Douglas International Airport (CLT) says its terminal lobby expansion project is now halfway finished and on track to be completed by 2025.
The lobby expansion is the "signature project" of the airport's $3.1 billion modernization program, according to CLT. It will increase Douglas's current terminal lobby space by 175,000 ft.2 while also renovating existing space.
"Improvements will include condensing CLT's five security checkpoints into three larger checkpoints with greater capacity to process passengers faster through security," the airport says in a statement.
The security checkpoint alterations are part of the next phase of the project, and the airport is warning passengers there could be potential disruptions as checkpoints are revamped and other changes are made to the lobby.
"Passengers are strongly reminded to be inside the terminal at least two hours before a domestic flight and three hours before an international flight," CLT says, noting that spring and summer travel at the airport is expected to be "busy."
This article was originally published on aviationweek.com.