Airports, ANSPs Collaborate To Boost Capacity
ACI World and CANSO will work on a program to increase capacity in the air transport sector.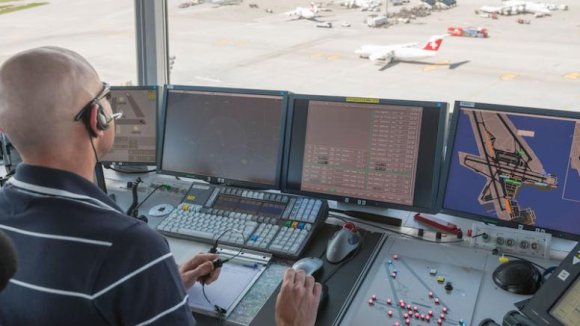 A project to increase capacity in the air transport sector has been agreed by the representative bodies for airports and air navigation service providers (ANSPs).
Airports Council International (ACI) World and the Civil Air Navigation Services Organization (CANSO) are to develop the Airport System Capacity Enhancement (ASCE) program. This will aim to remove barriers to unlocking airport capacity, while supporting the sustainable growth of air travel demand.
ASCE is a core area of cooperation to emerge from a new agreement signed by ACI World and CANSO on March 9 at the Airspace World air traffic management exhibition in Geneva.
ACI forecasts that global passenger traffic will grow at a compound annual growth rate of 7.5% over 2021–41 to reach 19.3 billion passengers at the end of that period. This includes a steep recovery gradient out to 2026 at 19% as the commercial aviation sector emerges from the pandemic.
ASCE aims to help airports and ANSPs accommodate this rapid expansion.
Under the program, an airport or ANSP will be able to request a review of its facilities and procedures or processes via its respective representative body.
ACI World or CANSO will then hold discussions with the airport or ANSP to identify its needs and ensure that the goals it wants to achieve are clearly understood.
From there, the draft agreement will be submitted along with a cost estimate to cover the expenses involved in the program.
This will result in a comprehensive onsite review led by industry peers and experts to optimize the use of airport system capacity in the air and on the ground.
The airports or ANSP being reviewed will receive an assessment tailored to their needs, together with practical recommendations and solutions aimed at enhancing their long-term capacity usage and operational efficiency. The review group will also suggest strategic investments in technology and infrastructure, where necessary.
However, in some cases, improvements may be suggested that will allow costly infrastructure or system investments to be deferred while also contributing to aviation's emissions reduction goals.
ACI World and CANSO are to collaborate on a pilot of the program in order to refine and validate its methodologies. One such pilot project is planned for Jorge Chávez International Airport in Lima, Peru, with another to be announced in coming months.
"Leveraging all the available capacity across the airport system is one of the key ways that airports and air navigation service providers can support the growth of air travel demand and the sustainability of the global aviation ecosystem," ACI World Director General Luis Felipe de Oliveira said.
"This includes the ability to meet the industry's ambitious emissions reduction goals while sustaining economic balance by deferring or reducing the need for expensive CAPEX investments."
"ACI and CANSO have many shared priorities," CANSO DG Simon Hocquard added.
"Focusing on unlocking system capacity in the airport and airspace terminal environment can deliver real benefits for the system. We need new perspectives on the management of congestion and to be looking at new ways to utilize existing infrastructure resources if we are to meet future demands."
This article was originally published on aviationweek.com.