Pittsburgh International Airport To Build Passenger 'Tunnel' In New Terminal
Pittsburgh International Airport's new terminal is scheduled to open in 2025.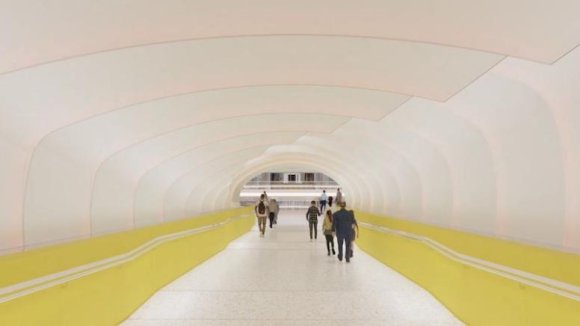 Pittsburgh International Airport (PIT) has revealed plans for a tunnel-like connector bridge in the new $1.4 billion terminal it is building.
Construction on the 700,000-ft.2 passenger terminal, which is slated to open in 2025, commenced in October 2021. The connector bridge will enable passengers to move to the center of the airport's airside facilities, Pittsburgh International says in a statement.
Pittsburgh International notes the connector bridge pays tribute to the Fort Pitt Tunnel, through which many automobile travelers enter the city. "PIT's connector bridge is designed to evoke the beauty of the region, with a feeling of expansion as passengers exit the bridge and reach the airside center core," the airport says. "Using an architectural strategy of compression and expansion, the tunnel will bring comfort and reassurance to the traveler through intuitive way-finding. State-of-the-art lighting, as well as screens, will also be used in the tunnel, offering different experiences depending on the time of day … Once passengers reach the end of the tunnel, the center core will expand into full view as new escalators guide them to the gate level."
The airport has also started putting up concrete walls for a massive new automobile parking garage. Pittsburgh International says the new garage "will eliminate a half mile of walking distance from curb to gate."
The parking garage is expected to cost $163 million to build and is slated to open with the new terminal in 2025. It will span 1.14 million ft.2 and feature five levels with 4,200 parking spaces. PIT says the project, when finished, "will be one of the largest parking garages in western Pennsylvania."
This article was originally published on aviationweek.com.