Indianapolis Targets Transatlantic Service
Attracting a nonstop route to Europe remains a key priority for Indianapolis.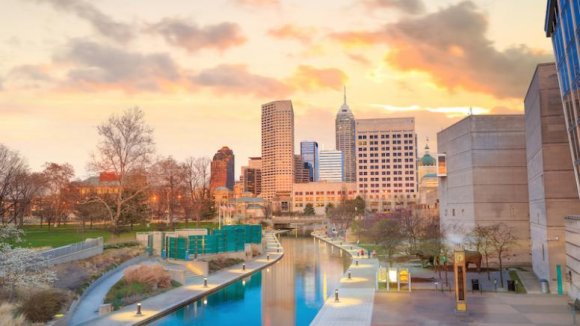 Securing a nonstop transatlantic link remains high on the agenda for Indianapolis International Airport (IND) as traffic continues to climb back to 2019 levels, air service development director Maggie Bishop has told Routes.
The airport, which hosted Routes Americas in 2020, has been without direct flights to Europe since Delta Air Lines paused its Paris Charles de Gaulle (CDG) route at the onset of the pandemic.
"Indianapolis is the number one unserved U.S. market to Europe," Bishop said. "We're a $1.9 billion airline market with promising future development in business and tourism investment as well as major events on the calendar like the Indy 500 and 2024 NBA All-Star Game."
Sabre Market Intelligence data shows that O&D traffic between Indianapolis and Europe totaled 250,000 two-way passengers in 2019—about 7% of which was nonstop. Preliminary data for 2022 reveals Indianapolis-Europe O&D traffic of approximately 200,000.
IND recorded passenger numbers of 8.7 million during 2022, marking a rise of 21% on the previous 12 months and back to 91% of 2019, which was a record year for the airport.
Explore News And Analysis From Routes Americas 2023
"At IND, we're really committed to increasing nonstop destinations to key industry hubs, such as the West Coast for tech and shorter-haul markets like Nashville and Raleigh Durham for life sciences," Bishop said.
"In 2022, we continued to see key air service once suspended by the pandemic return to market including Air Canada's nonstop service to Toronto and Alaska's second daily summer Seattle route, as well as new flights such as Spirit to Newark and Frontier to Raleigh Durham.
"We also saw Delta and Allegiant take advantage of key Indianapolis anchored events and add special nonstop service for the College Football National Championship and Purdue Bowl Game, respectively."
Key projects underway at IND include a $190 million runway reconstruction project to enhance capacity. The scheme, which is expected to be fully completed during 2024, has been supported with more than $100 million in FAA funding.
---
Stay up to date with the latest news from Routes Americas 2023.
This article was originally published on aviationweek.com.