Mexican Carriers Hopeful Of Speedy FAA Resolution
Aeromexico and Volaris are optimistic that Mexico's Category 1 safety rating will be restored by FAA within the next six months.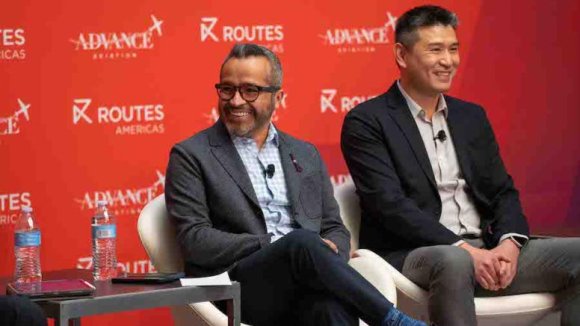 CHICAGO—Aeromexico and Volaris are optimistic that Mexico's Category 1 safety rating will be restored by the fourth quarter of the year at the latest, which will enable Mexican carriers to resume their growth plans in the valuable trans-border market.
The FAA downgraded Mexico's safety rating in May 2021, meaning Mexican airlines have not been able to add new routes and frequencies to the U.S. The decision also prevents equipment changes, such as swapping in larger aircraft.
Speaking at Routes Americas 2023 here in Chicago, Aeromexico's SVP of institutional relations, government, airports and industry affairs Cuitlahuac Gutierrez said he is hopeful that Category 1 will be in place by peak summer, while Volaris director of strategy and network planning Wei Jin believes the end of the third quarter is a realistic target.
"As an industry, we're investing a lot in new aircraft, but we're unable to invest those resources in the U.S., which was our most important international market," Gutierrez said.
He explained that Aeromexico, Volaris and Viva Aerobus have about 80 next-generation aircraft between them, which they are currently unable to operate to the U.S. This is forcing them to use the aircraft elsewhere—and the carriers are losing market share to their U.S. counterparts as a result.
OAG shows that Aeromexico is operating about 350,000 two-way seats on Mexico-U.S. routes in March 2023, equivalent to about 93% of 2019 levels. Volaris' capacity this month is higher at about 530,000 seats, but the ULCC has also been able to deploy additional seats to the U.S. from its subsidiaries in Costa Rica and El Salvador.
"Having the additional AOCs has helped to diversify the business and played into our hands when Mexico was downgraded to Category 2," Jin said.
"We were able to ship more capacity to our other airlines Central America. Costa Rica and El Salvador are similar markets to the U.S. as Mexico given that VFR traffic is strong, so it has been a natural transition."
---
Stay up to date with the latest news from Routes Americas 2023.
This article was originally published on aviationweek.com.