U.S. Airlines Face Supply Shortfalls Limiting Growth
As they attempt to develop their networks to meet robust passenger demand, U.S. carriers are encountering obstacles.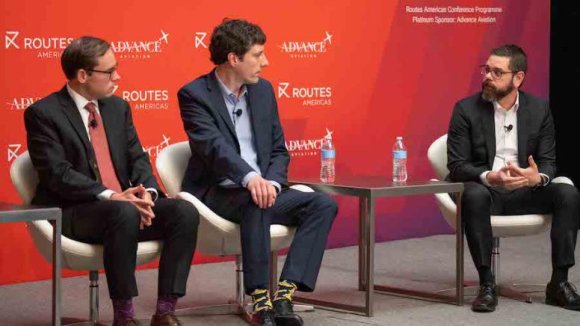 CHICAGO—U.S. airlines are navigating through a host of supply constraints—from delayed engine and aircraft deliveries to a shortage of pilots and air traffic control inefficiencies—as they attempt to develop networks to meet robust passenger demand.
"Right now, there are all these impediments, whether regulatory, whether supply chain, but the demand growth has never been stronger," Allegiant Air VP of corporate development John Pepper said during a March 21 panel discussion at the Routes Americas conference in Chicago.
"Demand in the U.S. this past summer far, far exceeded supply and the fuel cost environment really drove inflation of airline ticket prices. You are going to see that same thing again this summer," Pepper continued. "Frankly, this is a long-term structural [situation]. It's going to take years to get the network back to the way it was in 2019 from an operational standpoint. I think demand growth outstrips capacity growth for quite a while in the U.S."
Pepper predicted the pilot shortage in the U.S. will not be solved until the 2030s.
While Allegiant is a ULCC, major Delta Air Lines is reporting similar supply constraints. "On the mainline side, we have aircraft delivery delays and we're working through that," Delta's GM of network strategy Colin Scott said on the same panel.
"So to mitigate that, we are working closely with [Airbus and Boeing], but also with our colleagues in tech ops to see if we can extend time on any aircraft that is due for retirement a little bit longer and ensure that we're delivering capacity for our customers," Scott said.
He added that regional flying "still continues to be a challenging space where we've got more aircraft than pilots."
Spirit Airlines senior director of network planning Matthew Glover told the Routes Americas conference the ULCC would like to be adding more capacity, but is constrained. "In all of our markets, we would be growing faster if it was feasible for us to do so both sustainability and with the resources that we have today," he said.
---
Stay up to date with the latest news from Routes Americas 2023.
This article was originally published on aviationweek.com.