Flair Airlines: Aircraft Seizures Will Not Deter Summer Plans
Lessor Airborne Capital seized three 737-8s and one 737-800 from Canada's Flair, which is now seeking $50 million in damages.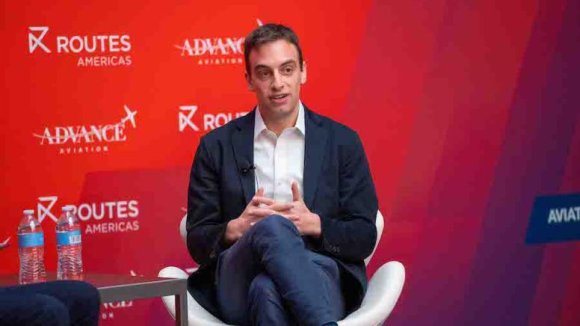 CHICAGO—Canadian ULCC Flair Airlines is vowing to carry on and operate a full schedule this summer in the aftermath of lessor Airborne Capital's March 11 seizure of four of its aircraft.
"The last two weeks have been a little bit weird," Flair's VP of revenue management and network planning Eric Tanner said during a March 22 fireside chat at the Routes Americas 2023 conference in Chicago.
As of late 2022, Edmonton-based Flair was operating a fleet of 22 aircraft, comprising 19 Boeing 737-8s and three 737-800s. Airborne seized three 737-8s and one 737-800. That has prompted Flair to file a lawsuit in Canadian courts against Airborne seeking $50 million in damages for what the airline calls an "unlawful and immeasurably destructive" action taken by the Irish lessor.
In addition to the financial compensation, the airline is asking the court to order Airborne to return the aircraft.
When asked if the aircraft seizures are a "hiccup" for the airline's network plans, Tanner responded: "I mean, 'hiccup' is an understatement. Certainly, it's been a lot of work [to keep Flair's schedule operating]."
"I think there was going to be some trimming of our capacity anyway, based on operational requirements and natural commercial issues that come up," he explained. "[The seizures] certainly forced that [capacity] conversation to be had a little bit earlier than we would have done otherwise." Nevertheless, Flair is "still going to be flying" a robust schedule, he said, though some planned growth may have to be pulled back.
He noted the airline will shift aircraft around as needed to keep flying its schedule, and look for ways to operate routes more efficiently. Also, Flair has moved up deployment of three 737-8s of which it had taken delivery but was waiting for the summer season to start flying.
"We have implemented every recovery measure possible to help our customers," Flair said in a statement outlining its lawsuit against Airborne. "We have deployed a dedicated team who have taken steps to ensure affected passengers can conclude their journeys with minimal disruption, rebooking hundreds of travelers on flights with Flair Airlines, or another airline, at no additional cost... We want to firmly reiterate that Flair Airlines will continue to fly its schedule."
Airborne, for its part, has said the leasing of the four aircraft was terminated "following a five-month-long period, during which Flair was regularly in default of its leases by failing to meet payments when due, with payment arrears reaching millions of dollars."
---
Stay up to date with the latest news from Routes Americas 2023.
This article was originally published on aviationweek.com.