Porter Plots U.S. Expansion With New E2s
Toronto-based Porter Airlines has revealed six U.S. destinations that it may fly to with its new Embraer E195-E2 regional jets.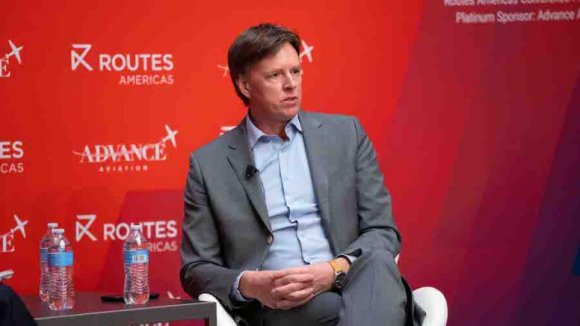 CHICAGO—Canadian carrier Porter Airlines is evaluating new trans-border routes to destinations in Arizona, California, Florida and Nevada, with hopes that service could start as soon as this summer.
The Toronto-based airline—which already serves Boston (BOS), Chicago Midway (MDW), Newark (EWR) and Washington Dulles (IAD) in the U.S.—has identified Fort Lauderdale, Los Angeles, Las Vegas, Orlando, Phoenix and San Francisco as target markets.
Flights will be operated by new subsidiary Porter Airlines Canada, which received its air operator's certificate (AOC) from Transport Canada in January. The unit will fly the company's new Embraer E195-E2 regional jets.
Speaking at Routes Americas 2023, Porter's vice president of network planning and reporting Andrew Pierce said: "There doesn't seem to be an end of the demand to Florida. And the more I look at Las Vegas, San Francisco, L.A. and Phoenix, the more I see what exciting markets they are for us."
Pierce said Porter's fleet of 132-seat E195-E2s—which entered service in February on inter-regional Canadian routes—will enable the airline to offer longer flights than previously possible with its De Havilland Canada Dash 8-400s, opening up the potential for more sun markets.
Porter has already received eight E195-E2s from an order of 50 and expects to take a ninth within the next 10 days. "We're looking at a what feels like a colossal number of aeroplanes by the end of the year—30 E2s rising towards 50 by the end of next year," Pierce said.
Pierce also discussed Porter's plans to expand operations in Quebec with the development of a 225,000-ft.² terminal at Montreal Saint-Hubert Airport (YHU), capable of serving more than four million passengers per year. It is hoped construction will start before the end of 2023.
The move will see Porter replicate a strategy employed in the Toronto area, where it uses the secondary Billy Bishop Toronto City Airport (YTZ) close to the city center, as well as flying to Toronto Pearson (YYZ).
"We're planning to fly both E2s and Dash 8s to YHU and YUL [Montreal-Trudeau International]," Pierce said. "YHU isn't quite as well located as YTZ, but there's extremely strong data coming out of Montreal when you look at the drive times where YHU is as good as YUL.
"If we get the right passenger experience to improve checkout times, improve security times and shorten the walk to some of the gates, [YHU] is potentially even better. I think YHU could therefore be a Billy Bishop version two."
Porter has already identified 10 potential routes it intends to serve from Montreal Saint-Hubert, stretching from flights to Vancouver in the west to Newfoundland in the east.

---
Stay up to date with the latest news from Routes Americas 2023.
This article was originally published on aviationweek.com.