Air Transat Touts A321LR's Route Flexibility
Canada's Air Transat is utilizing the A321LR's range to connect Montreal with Lyon.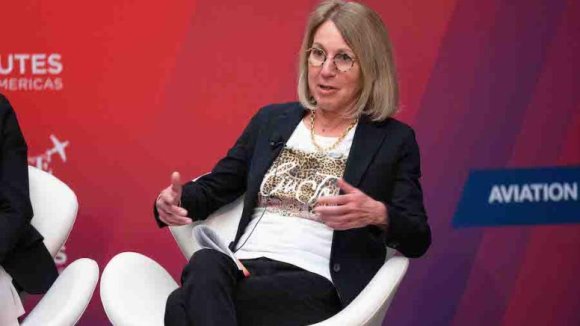 CHICAGO—Leisure-focused Canadian carrier Air Transat has said its fleet of 12 Airbus A321LR aircraft is opening up new route opportunities, particularly across the Atlantic.
The carrier earlier this month revealed it will fly Montreal (YUL) to Lyon (LYS) in France 3X-weekly during the 2023-24 northern hemisphere winter season, extending a seasonal route that will operate daily this coming summer. The route, exclusive to Air Transat, is evidence of the A321LR's flexibility, according to the airline's chief revenue officer Michele Barre.
The A321LR is "fantastic," she said during a panel discussion at the Routes Americas 2023 conference in Chicago. "It's a real game changer … It's an aircraft which fits into all of our markets" and can be shifted depending on the season.
Air Transat's A321LRs are configured with 199 seats. The aircraft has a range of just under 4,000 nm.
The aircraft, of which Air Transat started taking delivery in 2019, "has some real cost advantages and this aircraft is also very efficient," Barre said. "And inside the cabin, you really have the impression of being in a large aircraft."
The airline will start taking delivery of the A321XLR, which has 700 nm more range on the A321LR version, in 2025, barring delivery delays, she noted. Air Transat plans to fly the A321XLR—which Airbus says will enter service in the second quarter of 2024—to destinations such as Rome.
Regarding Italy, Lufthansa's pursuit of a stake in ITA Airways means the Air Canada-Lufthansa-United Airlines transatlantic joint venture (JV) could become even larger–the JV is viewed by Air Transat as a primary competitor.
A growing alliance involving Air Canada means Air Transat may "also join an alliance," Barre said, adding: "We need to find partners. We need to do something in response."
---
Stay up to date with the latest news from Routes Americas 2023.
This article was originally published on aviationweek.com.