Royal Air Maroc Boosts European Network
A new route to London Gatwick forms part of Royal Air Maroc's European expansion plans this summer.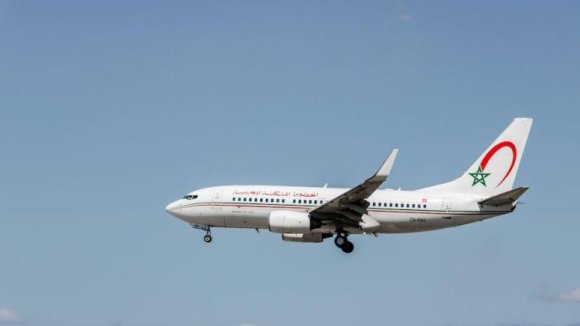 Royal Air Maroc is increasing its European network during the summer 2023 season, targeting destinations with a large Moroccan diaspora.
The airline plans to offer almost 6.2 million seats across its schedule during the travel period, representing a rise of about 10% on summer 2022 and equivalent to approximately 92% of the capacity available during summer 2019. More than 2.3 million seats will be deployed on European routes, connecting 11 Moroccan airports to 34 European points.
From Tangier, a port city in northwestern Morocco on the coast of the Mediterranean Sea, the carrier is opening a new route to London Gatwick. Flights will start on June 24, operating twice a week through Sept. 2 using Boeing 737-800 aircraft.
The route will provide direct competition for Air Arabia Maroc, which is the sole provider of nonstop flights between Tangier and London Gatwick at the present time. Ryanair also serves the wider Tangier-London market with a link from London Stansted, which started in March 2022.
Data provided by OAG Schedules Analyser shows there will be about 2,400 two-way weekly seats between the two cities once Royal Air Maroc opens its new route, up from about 1,000 before the pandemic.
Alongside the London launch, Royal Air Maroc is reinstating service from Tangier (TNG) to Barcelona (BCN) and Madrid (MAD) this summer. The oneworld alliance member served the Spanish cities until November 2014 before pausing flights for almost six years.
Operations to BCN returned in September 2020 and MAD in December 2020, with flights to each operating regularly until March 2022. However, both routes have remained suspended since then.
OAG data reveals that service to Barcelona and Madrid will resume on June 24 and the cities will receive three flights per week using 737-800s.
Elsewhere, Royal Air Maroc intends to open a new connection from Nador in northeastern Morocco to Madrid, as well as restarting service to Barcelona after a 13-month suspension. The MAD route will begin on June 24 and BCN the following day, each operating 2X-weekly with 737-800s.
Once the flights start, the carrier will compete with Air Arabia Maroc, Iberia and Ryanair on the Madrid sector, and Air Arabia Maroc and Ryanair to Barcelona.
The third new European route launching this summer will connect Oujda in northeast Morocco, close to the Algerian border, with Dusseldorf in Germany. Two flights per week to Dusseldorf International will begin on June 28 aboard 737-800s. The route will provide indirect competition with Ryanair, which served Oujda from Dusseldorf Weeze.
Additionally, Royal Air Maroc said frequencies from Casablanca to Barcelona, Bologna, Brussels, Madrid, Malaga and Milan will also rise to 2X-daily flights.
This article was originally published on aviationweek.com.