Route Analysis: Johannesburg-Nairobi
Airlink will provide competition for Kenya Airways on the sector.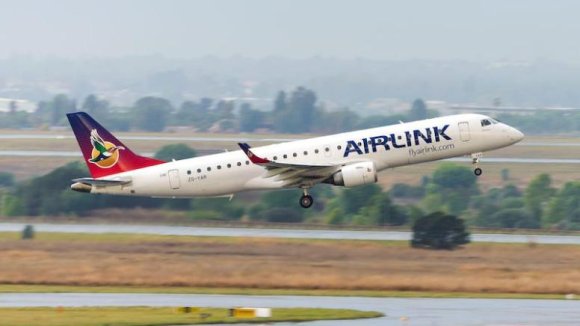 Kenya is to become the 15th country in Airlink's route network and the South African carrier's third in East Africa once flights to Nairobi Jomo Kenyatta International Airport (NBO) start next month.
Airlink is launching a new service from Johannesburg (JNB) to Kenya's capital city from April 24. Frequencies on the 2,910-km (1,571-nm) route will be daily using 98-seat Embraer E190 aircraft.
Airlink will compete on the sector with SkyTeam alliance member Kenya Airways, which is the sole carrier to offer nonstop connectivity from Kenya to Johannesburg at the present time.
Data provided by OAG Schedules Analyser shows that Kenya Airways offers a 24X-weekly service using a mix of Boeing 737-800s and 737-8s. Airlink will have 1,372 two-way seats available once it enters the market, giving it a 13.3% capacity share.
Although Kenya Airways has a monopoly on the route at the present time, South African Airways (SAA) served JNB-NBO up to 9X-weekly before the pandemic, providing in excess of 2,200 two-way weekly seats. This gave it a 20% share of capacity, with Kenya Airways holding 80%.
The launch of Airlink's new service will therefore fill a capacity gap left by the absence of SAA, as well as supporting an agreement between Kenya and South Africa to eliminate trade barriers and strengthen economic ties.
The two countries resolved a longstanding visa dispute last November, removing visa requirements for Kenyans visiting South Africa for up to 90 days. The agreement came into force on Jan. 1.
"With Airlink's network now including Kenya, Uganda, Tanzania and most of the Southern Africa Development Community nations, we offer travelers the widest set of choices and convenient regional and inter-continental connections on our own aircraft and with our global carrier partners," Airlink's CEO and managing director Rodger Foster says.
"These enable the businesses and economies Airlink serves to expand their own respective market reach. Similarly, our competitive services will promote tourism in both markets, generating additional foreign travel spend."
O&D traffic between South Africa and Kenya totaled about 205,000 two-way passengers in 2019, with around 135,700 of those traveling between Johannesburg and Nairobi. The South Africa-Kenya O&D figure during 2022 was approximately 142,000 two-way passengers, preliminary data provided by Sabre Market Intelligence shows.
This article was originally published on aviationweek.com.