Sarasota Bradenton Airport Begins $73 Million Expansion Project
Southwest Airlines is the leading carrier at Florida's Sarasota Bradenton.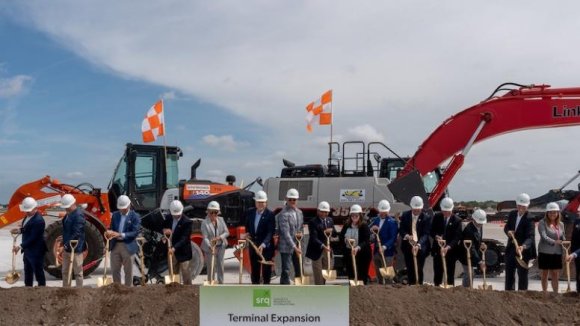 Sarasota Bradenton International Airport (SRQ) in Florida has broken ground on a $73 million terminal expansion project that will add five gates to the airport, bringing its total number of gates up to 18.
Covering 75,300 ft.2, the new facility will include four security-checkpoint lanes and five boarding hold rooms with 970 seats.
The expansion "will provide a variety of amenities and services for passengers including a new bar, cafe, restaurant and marketplace," the airport says in a statement.
SRQ President and CEO Rick Piccolo adds: "SRQ has seen an unprecedented increase in passenger traffic and demand, growing from six airlines and 12 nonstop destinations to 11 airlines serving 55 nonstop destinations over the last five years. This new facility will ease crowding and allow for future expansion of airlines and destinations."
Sarasota Bradenton handled 393,807 passengers in February, up 15.7% year-over-year. The passenger throughput marked the most passengers ever handled by SRQ in the month of February. The 12-month period ended Feb. 28 saw the airport handle 4 million passengers, up 14% on the number handled in the 12 months before that.
The airport notes March and April "are the two busiest months of the year due to the influx of spring break travelers." SRQ reports "smooth" operations "with minimal flight delays" in recent weeks.
Southwest Airlines has the largest presence of any carrier at the airport with a market share above 25%. Other airlines serving the Florida airport include Allegiant Air, American Airlines, Avelo Airlines, Breeze Airways, Delta Air Lines, Frontier Airlines and JetBlue Airways.
This article was originally published on aviationweek.com.