American Airlines, JetSMART Advance Codeshare Plans
The partnership between American Airlines and JetSMART will cover domestic routes in Chile, as well as international services.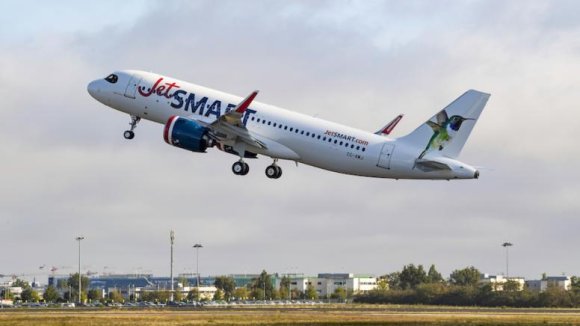 American Airlines and Chilean ULCC JetSMART have applied to the U.S. Transportation Department (DOT) to launch the first phase of their codeshare partnership.
The move comes just weeks after Chile's Fiscalía Nacional Económica (FNE) approved the oneworld alliance member's minority investment in JetSMART and 20 months since the planned deal was first announced.
The two carriers signed a letter of intent in July 2021 to launch a partnership designed to "create the broadest network" in the Americas. They added the alliance would allow both airlines to "grow aggressively and profitably across Latin America."
At the time of the announcement, Santiago-based JetSMART mainly operated from Chile with a subsidiary in Argentina. Since then, it has expanded to Peru and is in the process of launching a carrier in Colombia.
Chile's FNE approved the deal with American Airlines in late 2022 following an investigation, saying the tie-up would not generate a negative impact on the commercial landscape in the country.
The application to the DOT seeks permission for JetSMART to display American Airlines' AA code on flights operated within Chile and between Chile and third countries. It said the airlines intend to implement the codeshare agreement "immediately upon obtaining all necessary governmental approvals."
OAG Schedules Analyser data shows that JetSMART operates 23 domestic routes in Chile at the present time and some 62,400 weekly domestic seats. The ULCC, founded by private equity firm Indigo Partners, also flies to eight international destinations.
The international routes served from Santiago are to Buenos Aires Aeroparque, Buenos Aires Ministro Pistarini, Cali, Foz do Iguacu, Lima, Montevideo, Rio de Janeiro Galeao and Trujillo. It also serves Cali in Colombia from Antofagasta.
American Airlines previously had a codeshare partnership with LATAM Airlines Group in Chile, but the arrangement ended following Delta Air Lines' investment in the South American carrier.
Earlier this month, JetSMART said it had signed a letter of intent to begin the due diligence process to acquire Colombian ULCC startup Ultra Air. However, the airline terminated the process on March 23.
This article was originally published on aviationweek.com.