Batik Air Malaysia Extends Network With South Korea, Maldives Routes
Batik Air Malaysia is adding new service using Boeing 737 MAX 8s.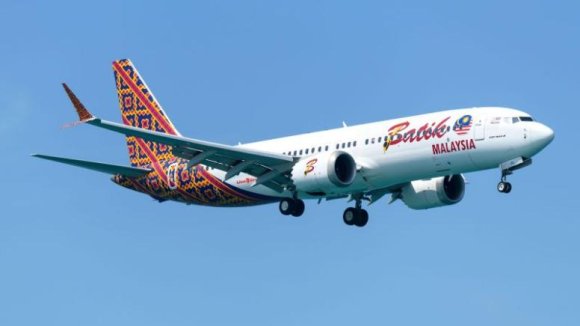 Two new destinations will join Batik Air Malaysia's network during the northern summer 2023 season as the carrier opens routes to South Korea and the Maldives.
A nonstop service from Kuala Lumpur International (KUL) to Seoul Incheon (ICN) will begin on June 23, operating daily using Boeing 737 MAX 8 aircraft.
Starting the same day, the airline will also open a direct route from Kuala Lumpur to Male's Velana International Airport (MLE) in the Maldives. Flights will operate 3X-weekly, again aboard 737 MAX 8s.
In addition, Batik will return to Colombo, Sri Lanka, on May 12 for the first time since the onset of the pandemic March 2020. The airline plans to offer a daily Kuala Lumpur-Colombo-Male service, meaning the Maldives will receive 10X-weekly flights by late June.
"Batik Air will continue to develop our schedules and network by inducting new destinations and resumption of existing routes to meet the ever-growing global demand for travel," CEO Mushafiz Bin Mustafa Bakri says. "The new routes will provide yet another additional choice to business and leisure passengers with connectivity via at Kuala Lumpur."
In the Kuala Lumpur-Seoul market, OAG Schedules Analyser data shows Batik will become the fourth airline to link the cities with direct flights. AirAsia X flies KUL-ICN 10X-weekly at the present time, while Korean Air flies 7X-weekly and Malaysia Airlines 6X-weekly.
Batik will provide about 2,300 two-way weekly seats once the route begins, giving it a 13% capacity share between the destinations. In total, there will be approximately 17,300 two-way weekly seats by July, down from about 25,000 before the pandemic when AirAsia and Malaysia Airlines provided up to 3X-daily and 2X-daily flights, respectively.
Between Kuala Lumpur and Male, Batik will compete directly with AirAsia, which offers eight round trips per week between KUL and MLE using Airbus A320s. The latest schedules provided by OAG indicate that AirAsia intends to increase frequencies to 10X-weekly from July, growing its weekly two-way capacity from 2,8000 seats to 3,600.
Meanwhile, the Colombo-Male market is already congested, with service from Emirates, flydubai, Gulf Air, Qatar Airways, SriLankan Airlines and Turkish Airlines among others. There are currently about 25,000 two-way seats between the cities, compared with 28,000 at this time in 2019.
Alongside the new Seoul and Male routes, and the return to Colombo, Batik has confirmed that it plans to resume operations from KUL to Hanoi, Vietnam. Flights will be daily starting May 26.
This article was originally published on aviationweek.com.