Antalya Airport Receives €140 Million EBRD Loan For Expansion
The airport is in the midst of a €765 million infrastructure development project.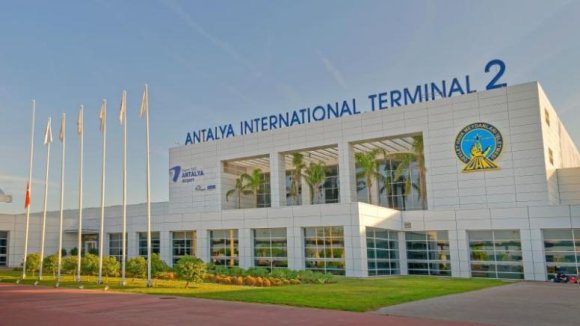 The European Bank for Reconstruction and Development (EBRD) says it is providing a €140 million ($152 million) bridge loan to the Fraport TAV Antalya Yatirim joint venture (JV), which manages Antalya Airport (AYT), to complete its infrastructure project.
The JV between Germany's Fraport AG and Turkey's TAV Holding has concessions contracts to manage Antalya Airport through 2051.
"The EBRD's investment is expected to enable the airport's new infrastructure to be completed, while ensuring improvements in energy efficiency," the EBRD says in a March 30 statement.
The TAV-Fraport JV is investing a total of €765 million "in order to increase the capacity of the airport to 80 million passengers annually, which is more than double the existing capacity," according to the airport.
The project includes expanding AYT's Terminal 2 to 190,000 m², more than doubling its size. The airport's domestic terminal will also more than double in size to 78,000 m².
"A new multi-story carpark will have a heliport on its roof, which will be able to accommodate eight helicopters," according to AYT. "New general aviation and cargo terminals will be built together with access roads to divert the traffic from the main passenger access."
The EBRD funds will finance the completion of a solar power plant, among other initiatives that the bank says will make the airport more efficient and enable it to handle more passengers. "By increasing the airport's passenger capacity, which is currently operating near capacity, the region will be able to enhance its share of tourists from key markets and develop the industry in general, which is critical for the economy as tourism is a key source of revenue," the EBRD says. "Works will include expanding passenger terminals, boosting the number of apron spaces and taxiways, and creating additional service facilities."
Nandita Parshad, MD of the EBRD's Sustainable Infrastructure Group, says: "We are confident that this loan and the planned improvements will allow Antalya Airport to become a standard bearer and leading light in the aviation sector."
TAV Airports Deputy CEO and CFO Burcu Geris says the loan "will contribute to the capacity investments in the airport, which have been planned to serve Antalya for another 25 years of growth. Ongoing investments will strengthen Antalya's position as a leading airport in the region in terms of environmental protection and create increased value for stakeholders and local communities for years to come."
ATY handled 30 million passengers in 2022. "Antalya Airport is today the number one gateway to the picturesque south coast of Turkey," Fraport VP-International Activities and Services Michael Reusch says. "To accommodate future demand, it is necessary to develop the airport sustainably in accordance with international standards."
This article was originally published on aviationweek.com.