Avelo Airlines Plans To Keep East, West U.S. Networks Separate
The airline says connecting passengers is not "on the radar."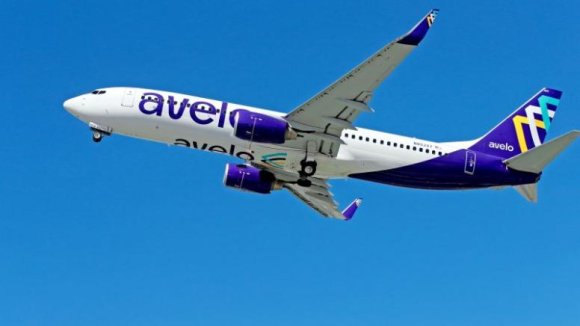 As startup Avelo Airlines approaches the second anniversary of its April 2021 founding, the carrier will continue to run separate eastern and western U.S. networks, with no plans for unifying the two route maps, according to a senior airline executive.
"Brownsville, Texas, is actually the only city we connect to both our east and west networks," Trevor Yealy, Avelo's head of network planning, told the recent Routes Americas 2023 conference in Chicago. "We've structured them completely separately ... The whole premise is simplicity operationally."
The airline operates from Brownsville (BRO) to Burbank (BUR) in southern California and Orlando (MCO). BRO and Colorado Springs (COS) in Colorado are the only two airports Avelo serves between Dubuque (DBQ) in Iowa and Las Vegas (LAS).
In total, the carrier's network comprises 41 U.S. airports. It has five bases: BUR; Tweed-New Haven (HVN) in Connecticut; MCO; Wilmington (ILG) in Delaware; and Raleigh-Durham (RDU) in North Carolina.
Separating the eastern and western networks is part of a larger strategy of allowing the five bases to operate relatively independently, Yealy said. "Everything's contained within the base," he explained. "It's very simple: airplanes come back to the base every night ... Maintenance technicians get to see the airplanes overnight. We've got our own maintenance in place. That's the way we think of it: [five] unique airlines in that sense. Everything just operates independently."
This allows for more efficient operations, he added, noting the airline has no plans to start connecting passengers, instead promoting all of its flights as nonstop. "Connecting is not a focus of ours at this point," Yealy said. "We're really focused on carrying passengers nonstop to where they want to go. It's simple for customers. It's also just simpler for our business to not have to manage connections and that helps provide that on-time reliable service." He added: "One flight is not dependent on a whole host of other flights that come in and connect. [Connecting flights is] certainly not on the radar in the near term. We're focused on linking unserved or underserved markets nonstop."
The airline will buttress its eastern U.S. network by adding 2X-weekly service from Wilmington (ILM) in North Carolina to Florida destinations West Palm Beach (PBI) and Tampa (TPA) in late June.
ILM Director Jeff Bourk notes in a statement that the two new routes–exclusive to Avelo–will give the North Carolina airport nonstop service "to six destinations up and down the east coast," adding: "It's amazing to think that just a year ago we had no service to Florida and now, with these new flights to Tampa and West Palm Beach, along with [existing] Orlando and Fort Lauderdale (FLL) [service], we have four convenient [routes] to Florida."
Yealy said Avelo has "been plugging in a lot of cities that have not had any historic service to Orlando."
Avelo is an all-Boeing 737 operator, flying a mix of -700s and -800s.

This article was originally published on aviationweek.com.