UK Cuts Domestic Air Passenger Duty
The UK government's move sees taxes cut from £13 to £6.50 per passenger on domestic flights.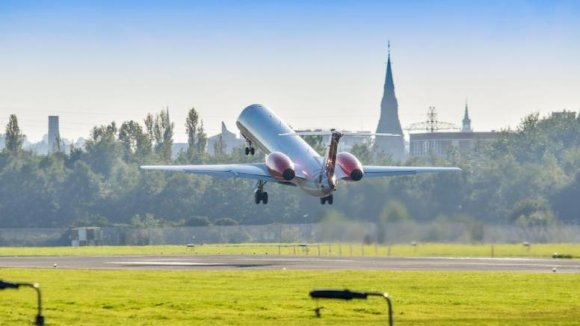 Air passenger duty (APD) on UK domestic routes has been cut by a half, which the country's government hopes will incentivize airlines to expand their networks to "bolster UK connectivity and ensure passengers have access to more affordable flights."
Details of the tax reduction—which fell from £13 ($16) to £6.50 per passenger on April 1—were first announced in October 2021. However, the UK's budget in March this year confirmed that the rate will rise in line with the retail price inflation index in 2024-25, increasing to £7.
Consumer group Which said passengers could be set to pay a third less to travel by plane than train as a result of the APD cut. It used data from Skyscanner and rail booking platform Trainline to analyze domestic journeys over the Easter weekend across 10 popular UK routes and found that rail tickets were on average 35% more expensive.
The Which study revealed the widest price gap to be between Edinburgh and Bournemouth. A nonstop flight on April 8 and returning a week later was £38, while a train journey with two changes each way cost £127.
Ryanair has welcomed the drop in APD on domestic air routes, saying that it plans to offer nine new links within the UK this summer. OAG Schedules Analyser data shows the ULCC intends to offer some 852,000 domestic seats during the season—almost double the 434,000 provided during summer 2019.
New routes being launched include five services from Belfast International—to Cardiff, Edinburgh, East Midlands, Manchester and London Stansted—as well as from Edinburgh to Bournemouth, Newquay and London Stansted. It will also serve Newquay-London Stansted.
EasyJet, the UK's largest domestic airline, is also expanding capacity on its UK network. The LCC has around 7.8 million seats on sale during summer 2023, up from 6.7 million in summer 2022 and 5.7 million in summer 2019. Three new routes are starting from Belfast City to Glasgow, London Luton and Manchester, alongside the resumption of Edinburgh-Jersey.
Other carriers like Loganair and Aer Lingus will also operate more capacity this summer compared with 2019, swelling by 72% and 207% respectively.
Overall, OAG data reveals that UK domestic capacity will total approximately 16.2 million seats during summer 2023—up by about 18.5% on summer 2022 and equivalent to 94.4% of the level achieved in summer 2019 before the pandemic.
Jade Kirwan, Ryanair's head of communications, said the airline applauded the APD reduction but urged the UK government to scrap the passenger tax "for all travel." The UK's APD rates from April 1 start at £6.50 for economy domestic flights, rising to £13 in Band A for flights up to 2,000 mi., £87 in Band B for flights between 2,001-5,500 mi. and £91 in Band C covering flights of more than 5,500 mi.
Although APD will be a factor in Aer Lingus, easyJet, Loganair and Ryanair expanding their capacity, the airlines are also responding to Flybe's exit from the market. Flybe relaunched in April 2022, serving 10 airports in the UK and offering some 538,000 domestic seats in summer 2022, but collapsed into administration in January 2023.
A previous incarnation of the carrier—which failed in March 2020— was the largest operator of domestic flights in the UK during 2019 with a 38.2% share of departures.
Meanwhile, the UK government has confirmed that a public service obligation (PSO) route between City of Derry Airport and London Stansted will continue until March 2024 after pledged support from the UK Transport Department and Northern Ireland's Department for the Economy.
The UK government began funding the air route in 2017 and will continue subsidizing the service alongside the Department for the Economy in Northern Ireland. The departments will provide £1.1 million to maintain the connection.
Loganair served Derry-London Stansted up to 19X-weekly using Embraer ERJ145 aircraft.
This article was originally published on aviationweek.com.