Flyadeal Plots European Expansion With Nine New Destinations
Saudi Arabian LCC flyadeal will increase seasonal capacity by 127% compared with summer 2022.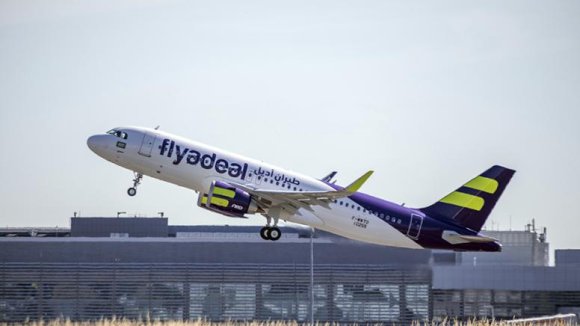 Flyadeal will serve 18 international destinations in Europe and the Middle East during the northern summer 2023 season—nine of which are new to the Saudi Arabian LCC.
The expansion includes four additional points in Turkey, two in Greece and one each in Bosnia, Cyprus and Montenegro. Seasonal flights will also resume to cities in Azerbaijan, Egypt and Georgia.
"This summer's expansion represents flyadeal's highest seasonal capacity increase since we launched the airline just over five years ago," CEO Con Korfiatis says.
Nine new routes are being launched from Riyadh, including connections to Turkish destinations Antalya, Bodrum, Izmir and Trabzon from June 22. Service will also be offered to Heraklion and Rhodes, Greece; Sarajevo, Bosnia; Larnaca, Cyprus; and Tivat, Montenegro. A further two new summer season routes are starting from Jeddah, linking the city to Trabzon and Baku, Azerbaijan.
Flyadeal also plans to resume flying from Riyadh and Jeddah to the Egyptian resort of Sharm el Sheikh, and from Riyadh and Dammam to Baku. Additionally, Georgia's capital Tbilisi will be served from three Saudi gateways of Riyadh, Jeddah and Dammam.
Overall, the LCC said the expansion will see a combined 49 scheduled flights a week to eight countries, representing a 127% increase in seasonal capacity on the same summer period last year.
Data provided by OAG Schedules Analyser shows that the airline offers routes to six international destinations at the present time, flying to Amman, Jordan; Cairo, Egypt; Dubai; Istanbul; Khartoum, Sudan; and Kuwait. It also provides domestic flights between 17 airports in Saudi Arabia.
Flyadeal, owned by Saudi flag-carrier Saudia, launched in September 2017 and operates an all-Airbus fleet comprising 11 A320s and 16 A320neos. It has a further 15 A320neos on firm order.
"As we take delivery of brand-new aircraft, flyadeal is able to introduce new routes and fulfil a pledge to serve high demand destinations," Korfiatis says.
This article was originally published on aviationweek.com.