Tampa Airport Aims To Complete UPS Facility, Turn To Passenger Terminal
Finishing the new UPS cargo building will clear the way for the airport to begin construction on a major passenger terminal project.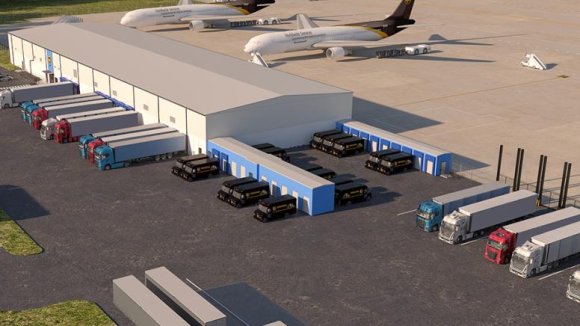 Tampa International Airport (TPA) says a new $79.5 million cargo facility to be used by UPS will be "substantially completed" by the end of this year, allowing for construction to begin in 2024 on the airport's planned $787.4 million passenger terminal.
Providing an update on the UPS project, on which construction started in June 2022, TPA reports the cargo facility is on track. The current UPS cargo sorting facility at TPA sits on land where the new 16-gate terminal will be built. This will grow the total number of passenger gates at Tampa International to 72.
"Construction crews are working hard to deliver a new home for international shipping company UPS on the east side of the Tampa International Airport campus," TPA says in the update.
The building, to be used as a cargo sorting center for next-day air deliveries to Florida's west coast, will span 40,000 ft.2 The facility will be owned by TPA and leased to UPS. It was designed as "a purpose-built sorting facility," according to the airport. "When completed, it will have the capacity to sort up to 7,500 packages per hour."
The facility will include a parking lot for UPS employees and trailer parking. The construction site spans 18 acres on TPA's east side. Along with the building and automobile parking lot, the project also includes the construction of an aircraft parking apron and expanding a taxi lane UPS shares with FedEx.
The UPS cargo building is currently located to the north of the airport's main terminal, but that site will be needed to construct the "Airside D" terminal that is slated to open in 2028.
The passenger terminal is the centerpiece of Tampa International's long-term expansion plans. It will span 563,000 ft.2, include a large concessions area and feature "new screening, gate check-in and bag processing technologies," according to the airport.
Both domestic and international flights will be operated from the terminal, which will become the airport's fifth. TPA says it will be paid for with a mix of federal and state grants and airport-issued bonds.
Southwest Airlines had the leading passenger market share at TPA in February at around 24%, followed by American Airlines and Delta Air Lines at around 16% each, according to statistics provided by the airport.
This article was originally published on aviationweek.com.