Finnair Drops Two Domestic Routes From Helsinki, Switch To Buses
Finnair says load factors were averaging around 35% on the two routes, leading to high per-passenger emissions.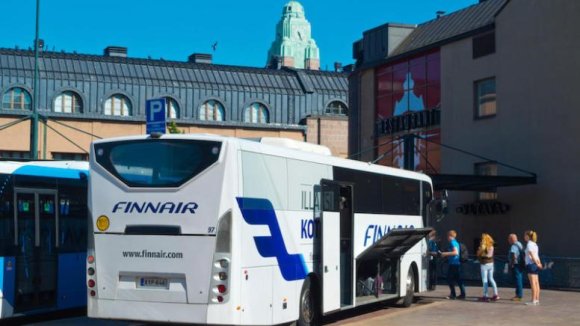 Finnair will switch two domestic routes from Helsinki (HEL) to bus services from May 1, citing the need "to lower the CO2 footprint of the routes."
During the summer season, Finnair says it will operate four daily bus services from Helsinki to both Turku (TKU) and Tampere (TMP). From May 8, the bus service will be operated from the central bus stations of the two Finnish cities to HEL rather than between airports, according to the airline.
Finnair will no longer fly the routes, each of which took 25 min. by air. "The flights to Tampere and Turku are very short and the relatively low passenger numbers–around 35% load factors–on these routes cause them to have a higher CO2 emission per passenger than many other short routes in our network, " Perttu Jolma, Finnair's VP of network, says in a statement. "Road or rail transportation is a more sustainable option for connections between Helsinki Airport and these cities."
Jolma says the airline needs to "take both economic and environmental considerations into account" when evaluating the viability of routes.
Finnair says "most customers" from the Tampere region flying from HEL "already come by bus, train or car" and "this was already the case before the COVID-19 pandemic." The airline adds: "70% of Finnair Plus members with home addresses in Tampere started their flights from Helsinki Airport rather than from Tampere, despite the several daily flights available."
The bus connections will be offered on the same itinerary as a passenger's flights. "With the bus connection included in the booking, Finnair also guarantees connections in case bus or flight schedules are delayed," the airline says, adding those arriving by bus will have access to priority check-in, bag drop and security.
Finnair notes the buses are powered by biodiesel fuel.
This article was originally published on aviationweek.com.