Routes In Brief: Rolling Daily Updates (W/C April 11, 2023)
The latest new route announcements, schedule changes and codeshares.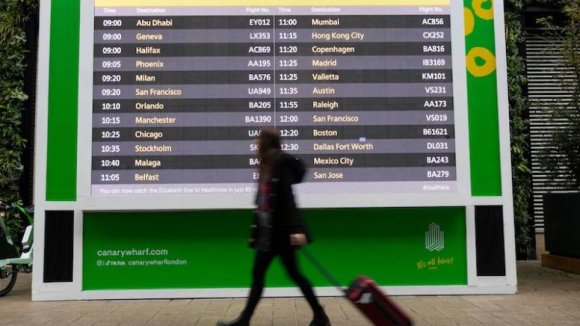 April 14
Colombian airline Avianca is launching a nonstop route between Ecuador's capital Quito and Cancun, Mexico. Operations will begin on June 15 with three weekly flights on Airbus A320 aircraft. The new route will offer more than 4,000 seats per month, aiming to strengthen tourism and connectivity between Ecuador and Mexico. It forms part of Avianca's plan to increase connectivity from Ecuador and improve tourism exchange between the two countries.
---
Irish ULCC Ryanair has opened a new base in Ibiza. The carrier will base one aircraft on the island and offer 35 routes, including a new service to Liverpool, as well as increasing frequencies on seven other routes. More than 385 weekly flights are expected to be operated during the summer 2023 season, an increase of 13% compared to 2022, and Ryanair is forecasting it will transport 2.3 million passengers to and from Ibiza each year. Ryanair currently holds a 24% market share in Ibiza.
---
British Airways subsidiary BA Euroflyer plans to launch a 4X-weekly London Gatwick-Sharm El Sheikh service from Nov. 3, decreasing to 3X-weekly from Dec. 15. The route will be BA's first Avios-only flight, on which 100% of the seats are exclusively available to Executive Club Members as reward seats.
---
Kuwait's Jazeera Airways has announced the addition of Larnaca, Cyprus, to its list of European destinations for the 2023 summer season. Flights to Larnaca will operate twice a week from April 29 to May 27, and three times a week from May 29 to October 28. "This new route provides travelers from Kuwait with another short and affordable holiday destination," says Rohit Ramachandran, CEO of Jazeera Airways. With this addition, Jazeera Airways now serves a total of 63 destinations across Europe, the Middle East, Central and South Asia, and Africa.
---
Moldovan airline Flyone has added Valencia to its list of destinations starting from June 3. The new direct flight from Chisinau will operate 2X-weekly on Tuesdays and Saturdays.
---
Argentina's Flybondi has inaugurated its fourth interprovincial route, connecting Córdoba and Mendoza with four weekly flights on Monday, Wednesday, Friday, and Sunday. The route was last served by the LCC three years ago. Flybondi now connects Córdoba to five destinations—alongside Buenos Aires, Bariloche, Salta, and Neuquén. It is the airline's second route from Mendoza, in addition to its 4X-daily Buenos Aires flights.
---
Air Seychelles will commence a 2X-weekly service from its base in Mahe, Seychelles, to Colombo, Sri Lanka, starting in June. The route will be operated by Airbus A320neo aircraft. In addition to offering direct travel between the two countries, Air Seychelles' partnership with SriLankan Airlines will enable travelers to purchase a single ticket for travel beyond Colombo to various Asian destinations.
---
April 13
Iberia is to operate a seasonal service connecting Madrid and Rovaniemi in northern Finland. The route starts on Dec. 2 and will operate until Feb. 10, 2024, using Airbus A320neos, with two flights per week.
---
Air France has confirmed it intends to operate 29 seasonal medium-haul routes from Paris Charles de Gaulle during the summer 2023 season. The schedule includes service to six destinations in Greece, five in Italy and four in North Africa. Routes include an up to 2X-weekly service to Tenerife South between July 9 and Aug. 27, as well as an up to 3X-weekly Tangiers route from April 21 through Sept. 29.
---
Air Astana subsidiary FlyArystan is launching a new route between Kazakhstan and India. Flights between Shymkent and Delhi will start on May 22, operating twice a week on Mondays and Thursdays with Airbus A320s.
---
Aer Lingus is increasing capacity on its daily flights between Manchester, England, and New York John F Kennedy. The move comes just over a year after the airline began its first direct transatlantic flights to New York from Manchester, which initially operated on a single-aisle Airbus A321LR with 184 seats. Service will now be offered using a 317-seat A330 aircraft. "The success of Aer Lingus' Manchester based operations has contributed towards its ambitious network expansion, offering yet more choice of routes and destinations from the north of the UK," the airline says in a statement.
---
Transavia has launched flights between Eindhoven, Netherlands, and Bordeaux, France. The seasonal service will operate four times per week using Boeing 737-800 aircraft, with Bordeaux becoming a new destination for the airline, owned by Air France-KLM Group.
---
April 12
RwandAir and Turkish Airlines have signed a new codeshare agreement. Turkish Airlines currently offers daily flights between RwandAir's Kigali base and its own home hub in Istanbul. The partnership will provide onward connections for passengers from both Kigali and Istanbul. "This landmark move will not only allow our customers to access the 124 countries served by Turkish Airlines but will improve connections for inbound travelers to Africa via our extensive continental network," RwandAir CEO Yvonne Makolo says.
---
AirAsia Malaysia's China expansion is continuing, with the resumption of direct flights from Kuala Lumpur to Shantou starting June 16 and a new nonstop route from Kota Kinabalu to Beijing Daxing beginning on July 1. Kuala Lumpur-Shantou will be served 2X-weekly in June, increasing to 4X-weekly in July, while Kota Kinabalu-Beijing Daxing will be 7X-weekly. "The two routes will contribute about 10% additional capacity to our China network, and we remain committed to expanding the connectivity to Malaysia further, which is a popular destination for Chinese tourists," AirAsia Malaysia CEO Riad Asmat says. "Shantou is one of our most popular destinations, where we flew about 340,000 guests to/from the coastal city until the end of 2019." Meanwhile, AirAsia Malaysia is also launching flights connecting Kuala Lumpur to Kertajati, Indonesia starting May 17. The sector will be served 2X-weekly.
---
Colombia's Easyfly is launching four domestic services. Three routes are from Medellin, linking the city with Pasto 3X-weekly from April 10; Valledupar 2X-weekly from April 25; and Cucuta daily from April 27. Flights between Bogota and Bucaramanga will also begin on May 1, operating daily.
---
Emerald Airlines, the operator of Aer Lingus Regional flights, will begin a Dublin-Liverpool route on April 27. Service will be 11X-weekly using 72-seat ATR 72-600 aircraft. Aer Lingus last operated from Liverpool in 2016. Passengers traveling from Liverpool will be able to connect via Dublin to other points in Aer Lingus' network, including New York JFK, Washington, Chicago, Boston and Philadelphia.
---
Wizz Air is opening a new route from London Luton Airport to Brasov in Romania. Flights will start on Aug. 2, operating 3X-weekly. Known as one of the best-preserved medieval cities in Europe, Brasov is often referred to as the "gateway to Transylvania."
---
Qatar Airways' flights to Birmingham, England, will resume on July 6, operating daily throughout the summer season. The route from Doha will be operated using Boeing 787-8s with 254 seats: 22 in business class and 232 in economy. The airline last served Birmingham in March 2020 but suspended flights at the onset of the pandemic. The planned resumption has been timed to cater for travelers attending the British Formula 1 Grand Prix on July 9 at Silverstone.
---
April 11
Delta Air Lines has praised a recent Netherlands court ruling that found the Dutch government's plan to impose a flight-capacity limit at Amsterdam Schiphol Airport (AMS) to reduce noise and emissions does not comply with EU laws. Delta joined a KLM Royal Dutch Airlines' lawsuit seeking to have the flight cap dropped. Delta and KLM are both SkyTeam members. "Delta believes that it is possible to balance sustainability priorities with passengers' desire to travel and connect with people across the world–something we have demonstrated through a vigorous commitment to fleet renewal and other practices to help de-carbonize our operations and reduce noise," Delta Executive VP-External Affairs Peter Carter says in a statement. "The court's decision is the right one, safeguarding a future for Schiphol."
---
London Heathrow Airport (LHR) says it handled more than 6.2 million in March, a million more than in February and 48.4% higher than March 2022. The airport reported it handled 221,606 passengers on March 31 alone. For the first quarter of 2023, LHR handled 16.9 million passengers—up 75% year-over-year.
This article was originally published on aviationweek.com.