Edelweiss To Make Colombia Debut
Swiss carrier Edelweiss is adding two destinations in Colombia to its network.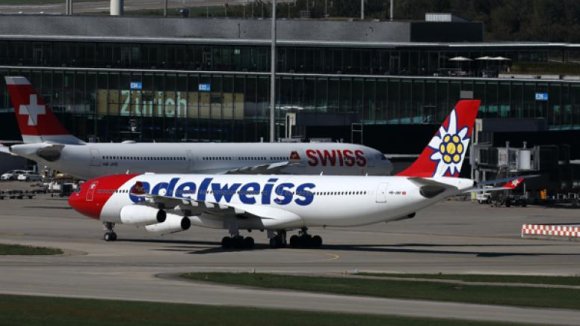 Leisure airline Edelweiss is expanding its long-haul network during the winter 2023/24 season with the launch of its first flights to Colombia.
From Nov. 22, the carrier will become the sole operator of nonstop service between Switzerland and Colombia when it begins operations to Bogota and Cartagena. The move increases the SWISS-owned airline's long-haul route map to 23 destinations.
The routing will see Edelweiss fly nonstop from Zurich to Bogota, on to Cartagena and back nonstop to Zurich on Wednesdays and Sundays. Airbus A340-300 aircraft will be deployed on the route.
Data provided by Sabre Market Intelligence shows that O&D traffic between Switzerland and Colombia totaled 62,850 two-way passengers in 2019, up by 11% on the previous 12 months. Zurich-Bogota was the biggest city pair, accounting for 32% of the traffic.
In the absence of nonstop Switzerland-Colombia flights, Madrid was the largest one-stop connecting market, followed by Frankfurt and Paris.
Once Edelweiss begins flying to Colombia, data provided by OAG Schedules Analyser shows that it will become Cartagena's third link to Europe. The latest schedules for the winter 2023/24 season show that KLM intends to offer a daily Amsterdam-Bogota-Cartagena-Amsterdam route, while Plus Ultra Lineas Aereas will serve Madrid-Bogota-Cartagena-Madrid 3X-weekly.
Zurich will also become the eight point in Europe connected to Bogota. Avianca will serve Barcelona, London Heathrow and Madrid direct from Colombia's capital next winter, while Lufthansa will operate from Frankfurt nonstop.
Air France will also serve Paris Charles de Gaulle-Bogota, and Air Europa and Iberia will offer Madrid-Bogota. In addition, Turkish Airlines will fly an Istanbul-Bogota-Panama-Istanbul route.
This article was originally published on aviationweek.com.