Long Beach Airport's Terminal Improvement Program Progresses
A new baggage claim facility is the latest element of the multi-year project at Southern California's Long Beach Airport.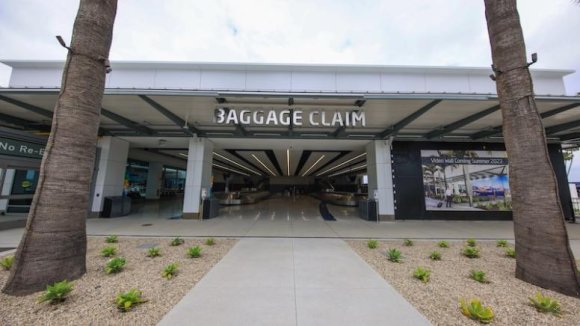 Southern California's Long Beach Airport (LGB) opened its new $25 million baggage claim facility on April 13, part of a larger terminal improvement plan that also includes a new ticketing lobby opened earlier this year.
The new baggage claim facility spans 11,500 ft.2 and consolidates what had been three areas used to collect luggage at the airport. LGB describes the new facility as an "open-air, pavilion-style building to complement the airport's other indoor-outdoor architectural design elements."
The airport is viewed as a secondary alternative to Los Angeles International (LAX). It is located 21 mi. southeast of LAX.
Southwest Airlines is by far the biggest airline at the airport, currently serving 18 destinations from LGB, including Honolulu International (HNL) and Dallas Love Field (DAL). The LCC plans to add service to six more airports from Long Beach this year, including Orlando International (MCO) service starting in July.
Delta Air Lines and Hawaiian Airlines also serve Long Beach, with Delta flying to Salt Lake City (SLC) and Hawaiian flying to HNL and Maui (OGG). SCL, HNL and OGG are all also served by Southwest from LGB.
The airport says the baggage claim facility is part of a multi-year, $122 million terminal expansion program. Other elements include the $26 million, 16,700 ft.2 ticketing lobby and a $25.5 million, 6,545 ft.2 checked baggage inspection system facility, both opened earlier this year.
"This new baggage claim area solidifies LGB's status as a first-class gateway to southern California, holding a special niche in the aviation industry with its easy access and welcoming feel for travelers," Long Beach Mayor Rex Richardson said April 13.
According to the City of Long Beach, the airport improvements are being funded by airport revenue, bond proceeds and flight-ticket passenger facility charges (PFCs).
This article was originally published on aviationweek.com.