Loganair Switches Two London Routes To Heathrow
UK regional carrier Loganair is moving two existing London services to Heathrow after securing slots.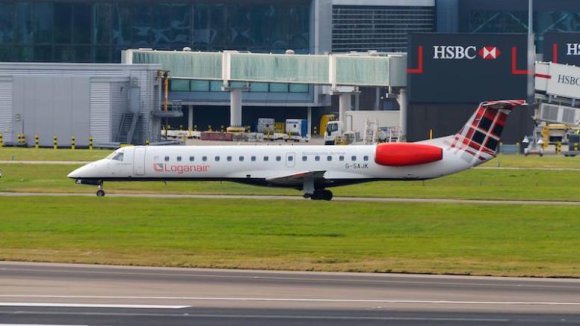 Loganair has confirmed plans to switch two UK routes to London Heathrow (LHR) after securing access to 30 additional pairs of slots each week under a lease arrangement with British Airways (BA).
Subject to government approval, the Glasgow-based regional carrier will begin to operate the Public Service Obligation (PSO) routes, which connect City of Derry and Dundee airports to London, from Heathrow on May 6. The airline currently serves Derry from London Stansted and Dundee from London City.
Same-plane services from Kirkwall Airport in the Orkney Islands and Sumburgh Airport in the Shetland Islands via Dundee to London will also move to Heathrow.
Loganair CEO Jonathan Hinkles said the move is a "gamechanger" for UK regional air services, bringing "new inward investment opportunities and tourism" and enabling travelers to connect to international destinations through LHR. The carrier already has a codeshare partnership with BA.
Loganair entered into a lease agreement with BA in March for the 30 weekly slots, which were previously used by the now-defunct Flybe.
At present, the airline operates one daily service to LHR from the Isle of Man. Flights from Derry will be offered 19X-weekly using Embraer E145, while the Dundee service will be 11X-weekly using ATR 42-500s.
Changes to Heathrow's tariffs for regional aircraft operating on UK domestic routes, which took effect on Jan. 1, are important to the viability of Loganair's plans to provide regional connectivity at the airport, the carrier said.
Additionally, the UK government cut air passenger duty (APD) on domestic routes by a half earlier this month, which it hopes will incentivize airlines to expand their networks. The tax fell from £13 ($16) to £6.50 per passenger on April 1.
During the week commencing April 17, Loganair is the third-largest provider of domestic capacity in the UK with an 8.8% share of the market. The carrier is offering some 44,172 domestic seats across 47 nonstop scheduled routes.
This article was originally published on aviationweek.com.