Breeze Airways Connects Long Island To Maine
Breeze will also begin service from Long Island to Raleigh-Durham in North Carolina.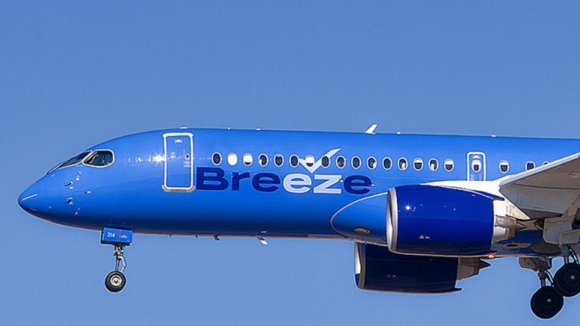 Breeze Airways has added a fifth destination to the roster of airports it will serve from Portland International Jetport (PWM), Maine, from which it will start flights next month.
Breeze, the U.S. startup launched in May 2021 by Azul Brazilian Airlines and JetBlue Airways founder David Neeleman, is also adding another route from Raleigh-Durham International Airport (RDU). The carrier will fly to both PWM and RDU from Long Island MacArthur Airport (ISP) in Islip, New York.
Breeze will offer 2X-weekly seasonal service between Portland and ISP from June 28. The airline had already unveiled four routes to be served from PWM, with 2X-weekly flights to Tampa (TPA) commencing May 17 to kick off Breeze's operations at the airport.
Charleston (CHS) in South Carolina; Norfolk (ORF) in Virginia; and Pittsburgh (PIT) will also be served from Portland.
"We're already at five nonstop destinations before our first flight even touches down next month," CEO Neeleman says in a statement. "We expect this new summer seasonal service, nonstop to Islip, will be as popular as our other PWM routes have proven already [in terms of advance sales]. We look forward to further growth from Portland."
From June 29, Breeze will open 2X-weekly year-round service between ISP and RDU. Breeze already serves CHS and ORF from Long Island. It plans to add service from ISP to PIT and Richmond (RIC) in Virginia in May.
This article was originally published on aviationweek.com.