Lyon-Saint Exupéry Airport Plans Solar Panel Plant
Airport operator Vinci says the French government has approved the project.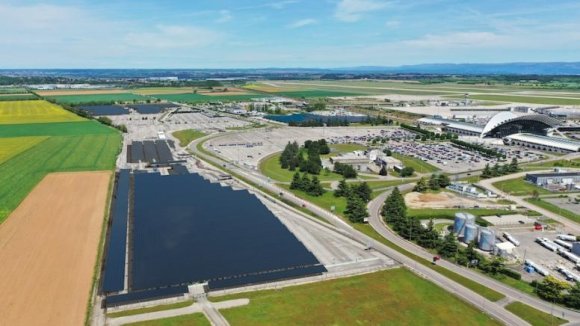 A solar power plant will be built at Lyon-Saint Exupéry Airport (LYS) to direct electricity to communities around Lyon, France.
Vinci Airports, which operates LYS, says the facility will cover 14 hectares (35 acres). Vinci adds the plant will produce 24 gigawatt hours (GWh) of electricity annually. "Its production will be injected into the grid to supply the neighboring communities," according to Vinci.
Construction will begin in the autumn following the project's approval by the French Ministry of Ecological Transition, Vinci says.
The project will see Vinci subsidiary SunMind partner with Paris-based renewable energy producer Neoen as part of a consortium to "design, finance, build and operate the plant until 2047," according to Vinci.
"This large-scale project is part of Vinci Airports' ambition to produce renewable energy at its airports," the airport operator says in a statement.
Vinci Airports President Nicolas Notebaert adds: "Airports are places of opportunity for photovoltaic production, which is why Vinci Airports has been committed to developing solar power plants for several years now. This allows us to decarbonize our own consumption, but also to contribute to the energy transition of [local communities] by injecting the electricity we produce into the [local] network."
This article was originally published on aviationweek.com.