Avelo Airlines Boosts Wilmington Base
An airport that had no airline service at the start of 2023 will have flights to 14 cities by the end of June.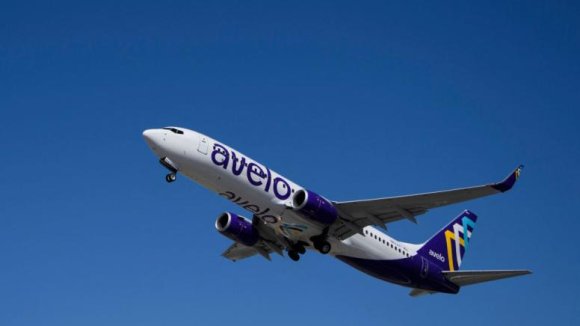 U.S. startup Avelo Airlines is adding a second Boeing 737 to its Wilmington Airport (ILG) base and launching nine more routes from the Delaware airport, which started 2023 with no airline service.
The expansion, announced April 20, marks a dramatic change in the fortunes of ILG, which lost a lone route operated to Orlando (MCO) by Frontier Airlines in June 2022. But Avelo opened a route to Orlando on Feb. 1 and inaugurated an aircraft base with one 737-700.
It soon added Florida cities Fort Lauderdale (FLL), Fort Myers (RSW), Tampa (TPA) and West Palm Beach (PBI) to the Wilmington roster. All five routes are served 2X-weekly.
In June, Avelo plans to swap out the 149-seat 737-700 based at ILG for a 189-seat 737-800 and add a second 737-800 to the base. It will then launch nine new routes, providing an alternative to nearby Philadelphia International (PHL)–particularly for Florida routes.
Wilmington Airport is 25 mi. to the south of PHL and 75 miles to the east of Baltimore-Washington International (BWI), and had previously been ignored by airlines except for very sporadic Frontier service. Avelo says it will add 35 more employees at the airport, bringing its total based employees to over 100.
By the end of June, the airline will serve 14 cities from ILG, including seven in Florida. Between June 22 and June 28, the airline will launch service to nine cities from Wilmington. The routes will be served 2X-weekly with the exception of Myrtle Beach (MYR), South Carolina, which will be served 3X-weekly.
In addition to MYR, the new destinations include: Nashville (BNA); Daytona Beach (DAB) and Melbourne (MLB) in Florida; Charleston (CHS) and Greenville/Spartanburg (GSB) in South Carolina; Raleigh/Durham (RDU) and the Wilmington (ILM) in North Carolina; and Savannah (SAV), Georgia.
"We are pleased with the enthusiastic reception Avelo has received since our airline took flight [at ILG] in February," Avelo CEO Andrew Levy says in a statement. "Based on this initial customer response to our first five Florida routes, we are excited to bring Wilmington these nine new routes to several of our most popular east coast destinations."
Thomas Cook, executive director of the Delaware River and Bay Authority, which manages Wilmington Airport, says: "With Avelo's 14 cities now on the schedule, Wilmington Airport offers the most nonstop flight destinations in its history and the second based aircraft will bring additional quality jobs for area citizens. Our focus is to be the airport of choice for people in Delaware, south [New] Jersey, Pennsylvania and Maryland who seek low fares, quality service and a convenient airport experience."
The swapping out of a 737-700 for a 737-800 and adding a second 737-800 mirrors what Avelo is doing at its RDU base. The carrier, founded in April 2021, also has bases at Hollywood Burbank Airport (BUR) in southern California, Tweed-New Haven Airport (HVN) in Connecticut, MCO and RDU. Avelo's network comprises 43 U.S. airports, but it does not offer connecting service.
Trevor Yealy, Avelo's head of network planning, told the recent Routes Americas 2023 conference in Chicago that the five bases operate relatively independently.
"Everything's contained within the base," he explained. "It's very simple: airplanes come back to the base every night ... Maintenance technicians get to see the airplanes overnight. We've got our own maintenance in place. That's the way we think of it: [five] unique airlines in that sense. Everything just operates independently."
This article was originally published on aviationweek.com.