Dutch Competition Regulator Clears Schiphol Airport Charge Hikes
Objections from airlines have been rejected by the Netherlands Authority for Consumers and Markets.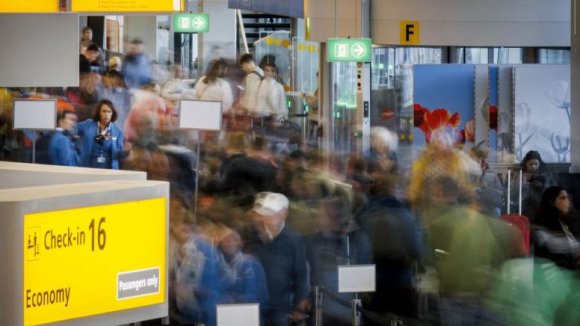 Amsterdam Schiphol Airport (AMS) can implement increases in airport charges planned over the next two years over the objections of airlines, local competition regulator the Netherlands Authority for Consumers and Markets (ACM) has ruled.
Increases in AMS charges for 2023 took effect April 1. These include an average charge increase of 12%, including a 12% bump in both the passenger service charge (PSC) and aircraft parking charges; a 13.4% increase in landing and take-off charges; and a 12.1% rise in security service charges. From April 2024, AMS charges will increase again by an average of 12%, including an 11% rise in both the PSC and aircraft parking charges; a 12.3% increase in landing and take-off charges; and a 13.8% bump for security.
Airlines, including KLM Royal Dutch Airlines, had filed objections to the hikes, citing heavy crowding at AMS in the 2022 summer that led to flight delays, cancellations and a temporary cap on the airport's capacity.
"The complaints are based on, for example, the long lines at the security checkpoints in 2022, which were mainly the result of staff shortages," ACM says in a statement. It notes Schiphol has outlined steps "taken to restore the quality of its services," adding: "Schiphol expects that these measures, which mainly concern staffing, will, to a sufficient degree, restore the quality of service."
Given these measures, "ACM has ruled that Schiphol's adjusted charges are not unreasonable," the regulator says.
ACM adds: "Schiphol argues that they already have their staffing in order to such an extent that 95% of passengers no longer have to stand in line at the security checkpoints for long periods of time, even though the airport does expect longer lines as a result of high demand during the school holiday period in May."
Indeed, AMS recently warned the number of departing passengers "will be well above 70,000 on peak days" and average 66,000 per day during the May holiday period beginning in late April. "In recent weeks and months, a lot of effort was put into recruiting new security employees," according to the airport.
The number of passengers departing Schiphol during this year's May holiday period—the Netherlands has four public holidays between April 27 and May 29—will average 66,000 per day, according to the airport. That is 14% higher than the May 2022 holiday period (58,000 daily departing passengers averaged) and 8.3% down on the May 2019 holiday period (72,000 departing passengers averaged per day).
ACM warns that during the period, queues are expected "at immigration checkpoints and baggage handling" as well as security screening points.
Schiphol says security companies operating at the airport have hired a combined 850 new officers who "have started training or have already started working." AMS adds: "Improved work instructions and smarter use of equipment have led to a faster security check for each passenger."
Schiphol notes: "On busy days … there will be queues—just as there were before the coronavirus pandemic—but not as long as in 2022."
AMS handled 4.6 million passengers in March 2023, up 23% over March 2022.
This article was originally published on aviationweek.com.