Washington DCA To Commence Overnight Runway Rehab Work
The management team at Washington Reagan National Airport have plans to keep flight disruptions to a minimum.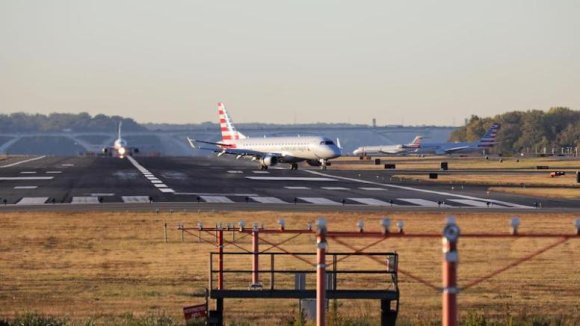 Washington Reagan National Airport (DCA) is set to begin a two-year runway rehabilitation program, but operations are slated to largely remain normal as the work will be done overnight,
Under a longstanding noise rule, the airport does not handle flights between 10 p.m. and 7 a.m. DCA operator Metropolitan Washington Airports Authority (MWAA) seeks to take advantage of the rule to allow for runway repairs without disrupting daily operations. "Under the construction plan, new pavement will be in place and ready for use in time for the next morning's scheduled flights," MWAA says in a statement.
MWAA notes it plans to "resurface and rehabilitate asphalt and base materials" along the airport's two primary runways, 1/19 and 15/33. Preliminary preparations are underway, but overnight work will begin in May.
"Construction work will include replacing up to 8 in. of base asphalt material on a portion of the runway and replacing all runway lighting with more energy-efficient LED systems," the airports authority, which also manages Washington Dulles International (IAD), says.
The work will include laying 123,000 tons of asphalt along runway 1/19 and 54,000 tons along 15/33. DCA will also be installing 142 LED center-line lights, 180 LED touchdown zone lights and 32 LED threshold lights.
"Closures associated with the project have been carefully planned and coordinated with airlines to minimize impacts on passengers," MWAA says. It adds there is "a risk that late-night or early morning flights … could be canceled or diverted if they are delayed at their originating airport or enroute. On-time flights are not expected to be affected."
MWAA VP and Airport Manager Paul Malandrino calls the project "significant and necessary for the long-term safety and reliability of runways that serve millions of travelers each year." He says MWAA will work to "minimize impacts and get the job done without unnecessary inconvenience to travelers."
DCA handled 24 million passengers in 2022, up 70% over 2021. American Airlines had the leading market share at the airport at 56% in 2022, followed by Southwest Airlines at 15% and Delta Air Lines at 14%.
This article was originally published on aviationweek.com.