HiSky Europe Seeks U.S. Service Using A321LRs
HiSky Europe hopes to secure authorization to launch transatlantic flights from the EU.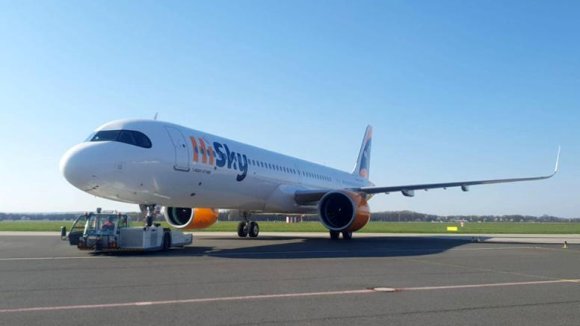 Romanian carrier HiSky Europe has submitted an application to the U.S. Transportation Department (DOT) seeking permission to commence operations to the U.S.
The airline's request includes authorization for scheduled and charter flights from any point within the EU to any point within the U.S. to the fullest extent allowed by the EU-U.S. open skies agreement.
HiSky Europe is part of the HiSky Group, which also includes sister operator called HiSky located in Moldova. In December 2020, HiSky Europe obtained an air operator's certificate (AOC) from the Romanian Civil Aviation Authority. A Moldovan AOC was issued the following month.
Charter flights using both AOCs started in March 2021, with scheduled service following in June. An initial eight scheduled routes were offered from Moldova's capital Chisinau and a further five from destinations in Romania.
Although the DOT filing does not specify which routes the HiSky Europe intends to serve, it outlines that Airbus A321LR narrowbodies would be used on the proposed flights to the U.S.
The airline received its first A321LR in March on lease from Air Lease Corporation. The aircraft began flying between Bucharest and Dublin the same month. A second A321LR is expected to be delivered later in the year.
Although Romania is in the EU, while Moldova is not, it seems unlikely that HiSky Europe will operate U.S. service from Romania using A321LRs given the maximum range of the aircraft is about 7,400 km (4,000 nm) in an all-economy configuration.
While a less dense configuration extends this by about 800 km, the distance from Bucharest to New York John F Kennedy is about 7,632 km (4,118 nm), for example, which is toward the limit of the aircraft's range. Service from Romania to the U.S. would therefore likely require a stop for refueling.
In its first two years of operation to March 2023, HiSky's two AOCs carried about 900,000 passengers using a fleet of one A319 and four A320s. The group hopes to carry 1.3 million passengers in 2023. It has bases in Chisinau, Bucharest and Cluj-Napoca.
This article was originally published on aviationweek.com.